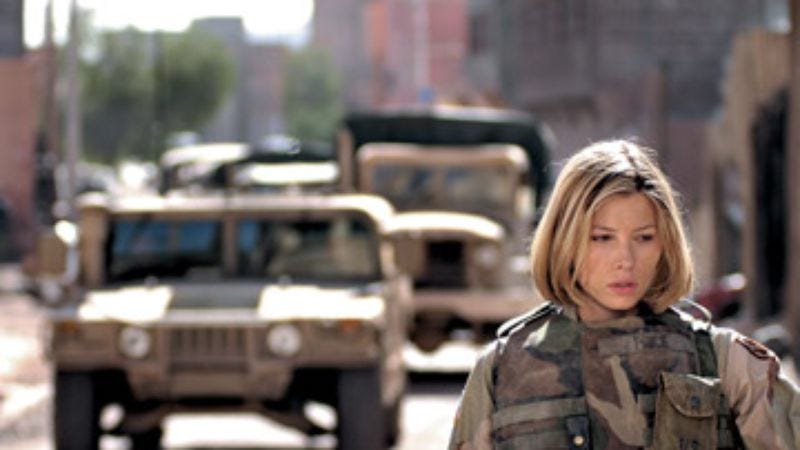 Home Of The Brave, a drama about the Iraq War and the aftershocks felt by those who fight it, opens with a long, wordless scene of an Iraqi man carrying the bomb-filled corpse of a dog through a city street. Savor that image. It's the last bit of subtlety the film has to offer before the shrillness and the soap bubbles begin. The film is producer-turned-director Irwin Winkler's attempt at a contemporary version of The Best Years Of Our Lives, William Wyler's remarkable drama of several World War II vets' homefront struggles. Whatever its model, the film is assembled from much poorer material, leftover parts of Lifetime movies and well-meaning indie films seen only on opening nights at some forgotten festival in Tampa.
Brave divides its time unevenly between four characters who lurch their way through awkward readjustments to life at home in ways that give little doubt to where they'll end up, just how long it will take them to get there. It feels like it takes forever. Jessica Biel plays a soldier who loses a hand in battle (but not, it would appear, her ability to polish her teeth to a blinding whiteness.) When she breaks up with her pre-war boyfriend, he says, "I guess it only takes one good hand to push people away." And that's hardly the worst of it. Maybe it's an unfortunate result of Snakes On A Plane oversaturation, but it's hard to take Samuel L. Jackson seriously as a surgeon battling the bottle. At every moment, he seems ready to shout, "I've had it with these motherfucking traumatic wartime experiences in my motherfucking head." Playing a psycho vet so stereotypical he appears moments away from raving about Saigon, Curtis Jackson (a.k.a. 50 Cent) has apparently taken all those Get Rich Or Die Tryin' reviews suggesting he learn to emote to heart, but Brian Pressley's performance as a steely-eyed grunt seems modeled after Casper Van Dien in Starship Troopers.
Home Of The Brave ultimately says… what? War is tough. That's fair, and so is Winkler's reluctance to engage the politics of this particular war and focus on the soldiers that fight it. Until, in the end, he does engage it politically in the most wishy-washy way imaginable. That's sadly keeping with the tone of the film, which offers up one of its leads as a sacrificial lamb then gently guides the others into feel-better-land. Because, in the end, don't all wars end in credits rolling to inspiring music?