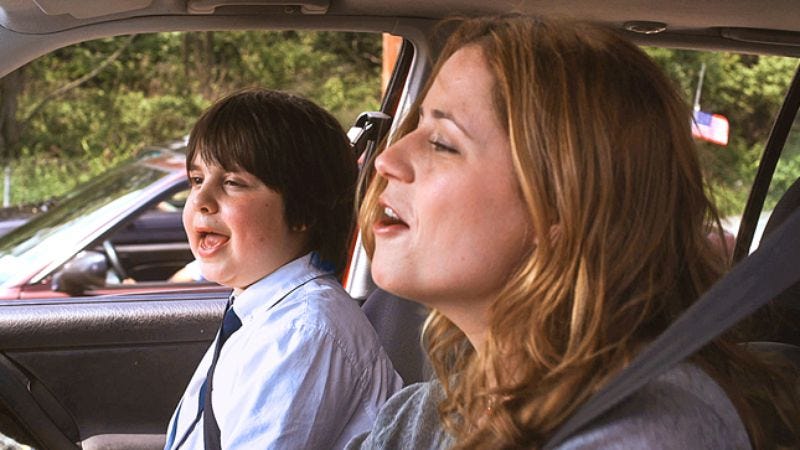 For Jenna Fischer's overwhelmed dental hygienist in A Little Help, life is a tough elective she's failing even before her prickly husband Chris O'Donnell dies of a heart condition, throwing her already-hectic existence into further chaos. Fischer's grieving process is complicated by knowledge of O'Donnell's extramarital dalliances at the time of his death. Since cold philanderers don't make good martyrs, Fischer's resentful son tells his classmates that his father was one of the firemen who perished in the 9/11 attacks. Yes, A Little Help belongs to that curious subsection of dramas set in the endless, ostensibly gravity-granting shadow of 9/11.
Fischer carries the film as a wife and mother who leans on discreetly chugged beers to help her survive the pressure of a life where everyone finds her hopelessly lacking, especially O'Donnell and their embarrassed son. In the aftermath of O'Donnell's death, Fischer wrestles with his shortcomings as a man and husband, while her shrewish sister insists she sue the hospital where he died.
When O'Donnell is posthumously promoted to 9/11 firefighter hero, it briefly appears that A Little Help might evolve into a World's Greatest Dad-like exploration of our need to deify the dead, but that ultimately proves misleading. It's difficult to figure out exactly where the film might be heading at any given point, since it follows the loping, meandering rhythms and casualness of a character study rather than conforming to the conventions of any particular genre. Fischer is strong as an ordinary woman pushed beyond her limits, but with the exception of her lovestruck, pot-smoking brother-in-law (Rob Benedict), writer-director Michael J. Weithorn surrounds her with shrill caricatures who aren't about to let a widow off easy simply because her philandering husband just died. This watchable but fairly inert comedy-drama suggests there should be a board to determine whether a film has the substance to merit folding unspeakable real-life disasters into its plot.