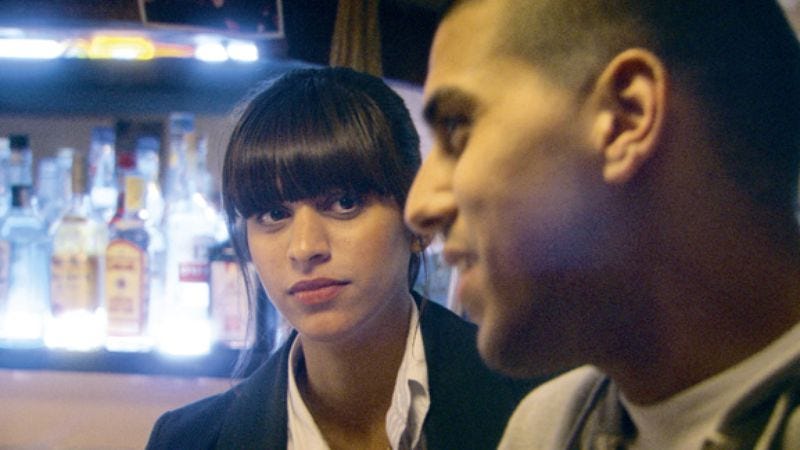 The title of the Academy Award-nominated drama Ajami refers to the neighborhood in Tel Aviv's Jaffa sub-city where the action begins. In the opening scene, a boy is shot dead in the street, because of a misunderstanding related to a mob vendetta. The man whom the assassins meant to kill, Shahir Kabaha, attempts to broker a deal to keep his family safe, but he needs money, and his illicit romance with his boss' daughter threatens both his livelihood and his life. Meanwhile, Kabaha's co-worker Ibrahim Frege has just arrived back in town from the Palestinian territories—illegally—and he's also looking for some quick cash, to help his hospitalized mother. And while those two contemplate turning to crime, local Israeli lawman Eran Naim is increasingly disengaged from the people on his beat, in part because he's distracted by his search for his missing brother, and in part because those he's sworn to protect seem to resent his help.
Structurally, Ajami is a lot like a typical "everything is connected" movie, in that it's divided into five chapters, each focusing on a different character tangentially related to the others. But writer-directors Scandar Copti and Yaron Shani aren't in the "Oh, cruel irony!" business, nor are they looking to dazzle audiences with their ability to weave together a complicated narrative. Ajami is more matter-of-fact, showing how in a part of the world where Jews and Palestinians have lived side-by-side for generations, the tension can be exacerbated by more than just ancient religious disputes.
If anything, Copti and Shani are a little too reserved, preferring to humanize rather than sensationalize. But their approach gains in effectiveness as Ajami plays on, and the details of life in Jaffa accumulate: the decadent nightlife, the intricacies of dealing with organized crime, the macho bluster, and the lengths to which people will go to appease their families. Copti and Shani show characters of different backgrounds interacting peacefully as individuals, then show how those characters subtly change when their affiliation with a group becomes an issue. And always the threat of violence looms. Whether it's Kabaha and Frege fumbling through a drug deal or a passing neighbor complaining to a group of thugs about the noise of their sheep, Ajami keeps asking: When do people cross the line? And when does pulling the trigger become a viable option?