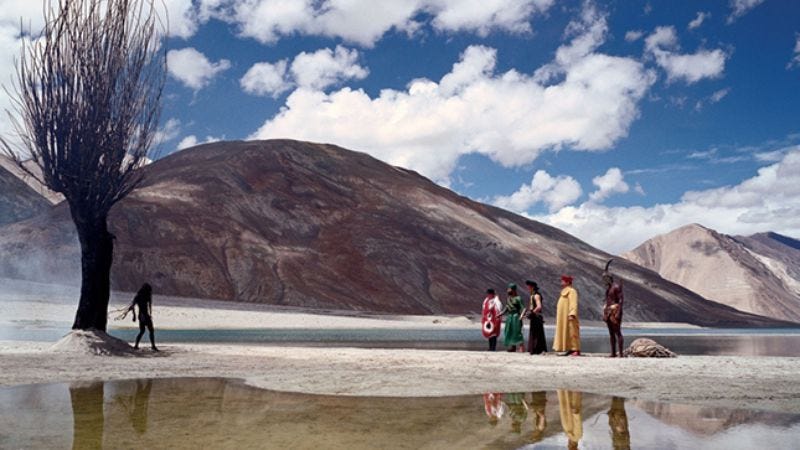 AVQ&A
Welcome back to AVQ&A, where we throw out a question for discussion among the staff and readers. Consider this a prompt to compare notes on your interface with pop culture, to reveal your embarrassing tastes and experiences.
Last night, I watched McCabe & Mrs. Miller for the first time. One of the DVD bonus features was a short documentary about how all of the cast and crew lived out in the Canadian wilderness during shooting, building their own town from scratch, just like the characters in the movie. Knowing some of the backstory behind the film made me appreciate the film even more. It got me thinking about other works of art that have great, mythic stories behind their creation that either enhance the final product or completely outshine it as an interesting story of its own. Other than McCabe & Mrs. Miller, the first two items that come to mind are Werner Herzog's Fitzcarraldo and Olivier Messiaen's Quartet For The End of Time. What about you all? Which cultural backstories cause you to appreciate the work of art more than you would otherwise? —Frank
Tasha Robinson
No history-of-a-cultural-object stories have ever impressed me like the ones behind Tarsem's movie The Fall, a labor of crazy love, devotion, and highly specific ambition to rival anything even Werner Herzog has done. Tarsem traveled around the world shooting high-end commercials, then flew his film cast in from wherever they were to grab a shot or two in whatever exotic locale he was visiting at the time. He hired a 6-year-old who didn't speak English as the star of his English-language movie, and consulted her at length for assistance with his plotline. He let her family think she was going to be in a documentary, so she'd act more naturally, and he and co-star Lee Pace pretended Pace really was a paraplegic, like his character, for weeks on end—deceiving everyone in the crew—so the girl would react to him as if he were crippled, not as an actor. When she subsequently was terrified of him, Tarsem just worked that into the script. He hid all the cameras and mics and had her just interact with Pace, and used that in the film. And on and on and on. I interviewed Tarsem about the film's backstory in 2008, and it remains one of my favorite interviews—and because of his personality, and his obvious love of the project, and the crazy lengths he went to make it—it remains one of my favorite films. Also highly recommended: Any interview where actors talk about David Milch's crazy weird working methods and dedication to verisimilitude on the set of Deadwood. I particularly enjoyed the episode of The Tobolowsky Files where Stephen Tobolowsky talks about being shat upon by a bull, to Milch's great delight, since part of that verisimilitude was that the Deadwood costumes were never washed or cleaned. This supposedly helped them look realistic, but I suspect they moreso made them smell realistic, which doesn't fully come across onscreen.
Will Harris
One of my favorite backstories is for an artistic work that never actually made it to fruition: the original soundtrack for Disney's adaptation of Roald Dahl's James And The Giant Peach, which was to have been done by XTC's Andy Partridge. Excited at the prospect of pulling together a project for the kiddies, Partridge was so surprised to get the call-up from Disney—at the behest of director Henry Selick—that he was convinced he was being pranked, and after being sent the script, which at that time was a draft that had been done by Dennis Potter (Brimstone & Treacle), he got even more excited about the possibilities. "I thought, 'Wow this is really dark,'" Partridge said when I spoke to him for Bullz-Eye.com. "And then another script arrived, and they said, 'Potter's off, he's too dark.' And I thought, 'Oh, dammit.'" But Partridge's excitement for the project remained strong, if only due to his appreciation of the Disney classics. ("The best of Disney's material, the best of those songs, like 'When You Wish Upon A Star' or 'The Bear Necessities' or 'Everybody Wants to Be a Cat"'…it's really infectious, good stuff.") Unfortunately, after whipping up five songs in under a week, Partridge hit a wall with his negotiations with the studio, describing the events as "really kind of a political situation" and claiming that, although Selick was permitted to have both the designer and child actor that he wanted for the film, "Disney knew that Randy Newman had done a pretty good job on Toy Story, so …that was it." Or was it? Selick told me otherwise, saying, "Disney's very tough, and basically, Andy Partridge wasn't famous enough in their eyes to warrant sharing publishing rights with him. Randy's a genius, he did wonderful songs for the film, but Andy was my first choice. They just wouldn't budge on deal-making, which I think was just stupid." So do I, Mr. Selick, so do I. But at least we finally got to hear Partridge's demos for the songs on his self-released Fuzzy Warbles compilations.
Jason Heller
Although it's been documented exhaustively—and even semi-fictionally in Michael Chabon's The Amazing Adventures Of Kavalier & Clay—the trials and tribulations behind the creation of EC Comics in the '50s has always captivated me, at least as much as the comics themselves have. In a nutshell: After publisher William Gaines enlisted a host of the era's top artists, he spearheaded a lurid yet socially conscious line of science-fiction, horror, and war comics that raised the bar of the medium's craftsmanship and creativity. But after a backlash led by pop psychologist Fredric Wertham, who claimed comics like EC caused juvenile delinquency, a McCathyist Senate subcommittee backed Gaines and his industry peers into a corner. The result was the self-imposed Comics Code Authority, which led to a relative whitewashing of mainstream comic books that lasted for decades. It also forced Gaines to turn lemons into lemonade; by upping EC's irreverent humor comic, Mad, to magazine size, Gaines was able to evade the Comics Code restrictions and expand Mad into the institution it remains today. To put that much on the line for the publication of comic books—a profession that put Gaines and crew about one rung above pornographers back then—is downright heroic. And it makes the timeless excellence of EC's output that much more incredible.
Kenny Herzog
The making of Ice Cube's AmeriKKKa's Most Wanted is pretty inspiring. If anyone's surprised by Cube's transformation into self-made mogul and entrepreneur, they shouldn't be. All indicators were there when he left N.W.A. and opportunist manager Jerry Heller in the group's prime, emigrated to the East Coast, and basically walled himself in with Public Enemy producer The Bomb Squad until his powerful, singular solo debut was finished. Cube knew the record he wanted to make, knew who he wanted to be in business with, and knew the best way to make his definitive creative statement. Which is why it sounds so damn good. It also has a lot to do with how sure-footed his next three classic albums (Death Certificate, Predator, and Lethal Injection) were. It's impossible to imagine any contemporary hip-hop artist in a similar position to Cube's circa 1989-'90 making the same choices, and without any real nerves about outside perception or hysterical self-aggrandizing. But don't take my word for it. Cube and his co-conspirators' own fascinating recounting of those sessions for Wax Poetics is a must-read for recent music-history geeks, and Most Wanted still kills at will.
Josh Modell
Have we talked enough about Schizopolis around here yet? Not only is it a fantastically entertaining movie, it's got a great real-life story to go along with it. Steven Soderbergh went from being the next big thing (after sex, lies, and videotape) to being a solid director of solid movies (The Underneath, King Of The Hill, and Kafka), who looked like he was settling into a relatively unremarkable career. Then he went a little crazy and cast himself in the lead (two leads, really) of this micro-budgeted sorta-comedy about a guy with communication problems (or something like that). He also cast his soon-to-be ex-wife as his disaffected wife, with whom his character has difficulty conveying emotion. That may sound heavy, but it isn't: Schizopolis is a scream, though a very weird one. It begins with Soderbergh addressing the audience: "In the event that you find certain sequences or ideas confusing, please bear in mind that this is your fault, not ours. You will need to see the picture again and again until you understand everything." He's called the movie his "artistic wake-up call," and apparently it worked.
Marcus Gilmer
My favorite backstory is filled with intrigue and a love triangle: Derek & The Dominoes' classic song "Layla." While there were other motivations for the formation of the band, which brought together Eric Clapton and Duane Allman, Clapton's inspiration for the title track was the woman he fell in love with, Pattie Boyd, who also happened to be the wife of his best friend, George Harrison. Originally composed as a slower ballad, more akin to the version Clapton later earned a Grammy for on his 1993 Unplugged album, it was later revved up by Allman. (Two other Clapton songs—"Bellbottom Blues," from the same album as "Layla," and "Wonderful Tonight"—were also inspired by Boyd.) Clapton later admitted his love of Boyd to Harrison, and while that caused a ruckus, the two somehow managed to remain friends. Boyd and Harrison eventually divorced in the mid-'70s, and a few years later, Clapton married his muse. Legend has it that others, including Mick Jagger and Ronny Wood, were infatuated with Boyd, but Clapton ultimately wooed her with one of his best songs.
Todd VanDerWerff
I've recently been getting into the work of Donald Ray Pollock, writer of brutally realistic American novels and short stories. Pollock is a fantastic writer, and his The Devil All The Time is one of the best books of the year, but one of the things that makes Pollock seem so awesome is that his backstory is the stuff of the American dream. Pollock has lived his entire life in the same small Ohio city, and one day, when he was 50, he finally enrolled in a creative-writing program at Ohio State, even as his short-story collection, Knockemstiff, was winding its way toward publication. Pollock spent most of his life working industrial jobs and as a truck driver, and the fact that he not only had this lifelong dream of being a writer, but then made it come true well past the point when many others would have given up on that dream, makes him vaguely inspirational, in addition to being a hell of a writer.
Phil Nugent
I love that it took David Lynch five years to make Eraserhead. I love the degree of dedication that made it possible, not just to keep pulling the cast and crew together to get a few more scenes in the can until the money ran out again, but for him to keep that world inside his head for that length of time, so that he could tap into that mood, or vision, or whatever you want to call it, when he had to. I love it that this most personal and underground of movies was mostly shot at the Beverly Hills headquarters of the American Film Institute. I love watching it and feeling how all of a piece it is, even though I know that, between the time he first called "Action!" and the first public screening was held, the country went through three presidential swearing-ins. I love it that, as Lynch once said, in "one scene, Henry walks down the hall and opens the door, and the next shot is a year and a half later." Mainly, though, I just love that, because they never knew when production was going to resume, for five years, Jack Nance had to keep getting his hair cut like that.
Nathan Rabin
Backstories don't get much sadder or more dramatic than the story behind J-Dilla's Donuts. One of the most prolific and influential hip-hop producers of all time, J-Dilla was fighting and losing a battle with lupus that would ultimately claim his life at 32 when his buddies brought a sampler and a record player to his hospital bed so he could make music. Donuts was literally recorded on Dilla's deathbed, yet it's an album vibrating with life and energy. It's the work of a man with an open mind who was taking in everything around him and transforming it into a deeply personal form of art. Donuts consequently feels less like an elegy or a musical wake than a celebration of a man in the midst of a profound creative breakthrough.