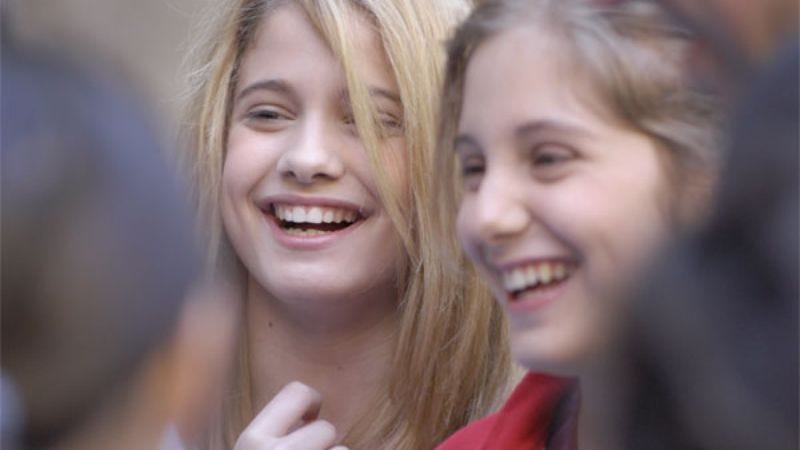 Uprooted from her remote coastal town when her father (Sergio Castellitto) receives a long-requested transfer to Rome, Alice Teghil, the star of Caterina In The Big City, isn't sure what to expect. Long the shining star in a school system full of dim bulbs, she's thrown into a lively, buzzing classroom where the debates begin before class has even started. Soon she's hearing words like "communist" and "fascist" thrown around to discuss national events, and she's being asked whether she's "preppy" or "alternative." Eventually, she figures out what each of the words mean. Then she figures out how they relate to each other.
Embraced first by the daughter of leftist intellectuals, Teghil enters a world of protests, Nick Cave CDs, and homemade tattoos. It suits her for a while, but it eventually asks more of her than she can give. Shifting to the other camp when she befriends the daughter of a right-wing minister, Teghil joins a chorus of giggling girls in a mad rush of shopping, partying, and, oops, the occasional wedding that erupts into nationalistic songs and fascist salutes. Meanwhile, Castellitto begins to unravel, frustrated by his inability to advance his literary career in spite of his access to all those powerful parents.
It's all cliques wherever either one looks. That's more or less the whole point of Caterina In The Big City, and while it illustrates it repeatedly, its juxtaposition of coming-of-age story and political allegory seldom feels belabored. The many references to Italian politics don't export well, but the portrait of closed systems that wield power in the name of an outsider majority does. Writer-director Paolo Virzì makes the bold choice of letting Castellitto begin the film as a lovable curmudgeon and then slowly degenerate into a total jerk. Teghil is a winning lead, playing her character as just young enough to buy into the ideologies competing for her attention, but bright enough to see through them eventually. The film explores a small world that mirrors a bigger one. It's nicely done, but in the end it feels a little small itself, particularly during a conclusion that doesn't so much tie up its characters' stories as abandon them. But for a while, Caterina offers an intriguing variation on the teen drama, presenting it as a succession of hard little lessons that offer a sneak preview of what's to come.