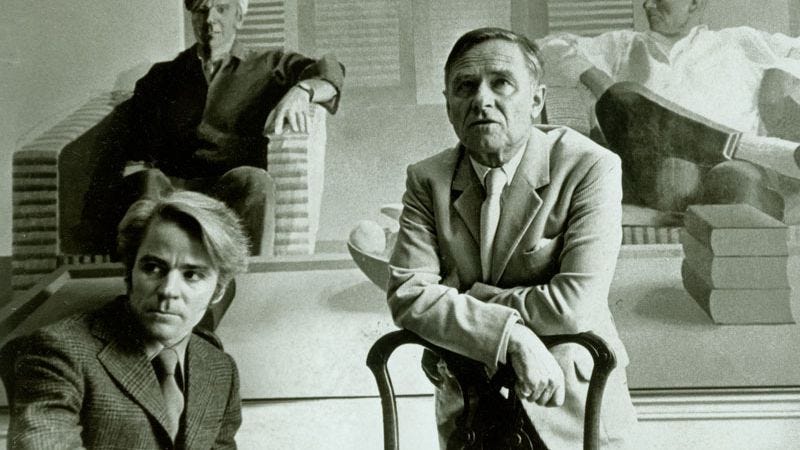 Christopher Isherwood lived in Berlin during the Weimar Republic era and later wrote about that time in a bestselling short-story collection adapted into the plays and films I Am A Camera and Cabaret. Isherwood considered his Berlin years one of the few times that he felt "free" as gay man in a gay-unfriendly era. He left Germany before Hitler took full command, and found his way to Hollywood, where he worked on scripts, socialized with movie stars, and immersed himself in Los Angeles' nascent—and still largely secret—gay culture. And then he met Don Bachardy, a slight, handsome teenage beach bum who charmed Isherwood with his naïveté and boyish enthusiasm. They become instant companions, and Isherwood was so comfortable having Bachardy around that he once again found the freedom of Berlin in this new community of two.
Tina Mascara and Guido Santi's documentary Chris & Don. A Love Story recounts Isherwood and Bachardy's 33-year love affair through its low points and considerable high points. Most of the film consists of Bachardy telling anecdotes, set to home-movie footage and smartly staged recreations, with the occasional complementary reading from Isherwood's work by actor Michael York. Bachardy describes their unlikely partnership, and how it weathered affairs, jealousy, and feelings of inadequacy, before ending with Isherwood's death from cancer in 1986—an event that Bachardy documented in a series of vivid sketches that showed his lover wracked with pain.
Mascara and Santi go along with Bachardy's tendencies toward digression, which means Chris & Don isn't always as clear and focused as it could be, and their decision to animate some of Isherwood's cutesy love letters comes off as a little cloying. (Of course, love itself can be cloying too.) Isherwood and Bachardy's story features cameos by a galaxy of literary and cinema stars, but few are as impressive as the protagonists, who defied the conventions of their times by living openly as a happy, well-adjusted couple. Describing the early stages of their sexual attraction, Bachardy sums up the whole outrageously fortunate arc of his life. "It was exactly what the boy wanted," Bachardy says. "And he flourished."