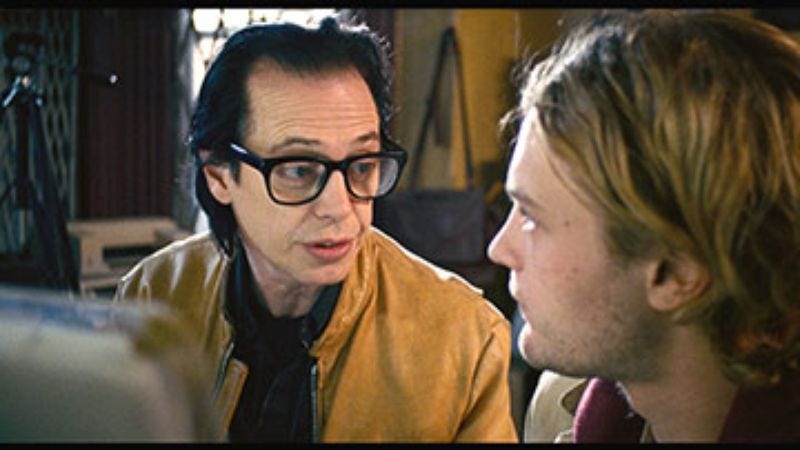 Tom DiCillo's best film, the 1995 comedy Living In Oblivion, is an independent movie about independent moviemaking, which means the spoof content comes from a familiar place. Writer-director DiCillo is highly familiar with the world of no-budget mishaps and pretentious artistes, where crews have to scramble to deal with temperamental stars, misbehaving smoke machines, and dream sequences featuring the obligatory dwarf. DiCillo's latest send-up, Delirious, returns to the industry hall of mirrors, but enters the more uncertain territory of celebrity culture, and isn't nearly as knowing about it. Whenever characters drop names, spout off about the latest gossip, or converse in publicist-speak, the film feels woefully out of touch with the stargazing world. And yet that liability becomes an asset, too, because the film centers on two fringe-dwellers who are looking in from the outside, with their faces pressed against the glass.
Returning to the scuzzily handsome, half-stoned look he's perfected in films like Last Days, Bully, and Hedwig And The Angry Inch, Michael Pitt stars as an amiable homeless kid who befriends bottom-feeding paparazzo Steve Buscemi. Though reluctant at first, Buscemi takes in the eager Pitt as his unpaid assistant and puts him up in a closet in his fleabag apartment, which the wide-eyed Pitt mistakes for the Ritz. Buscemi's Ratzo Rizzo type teaches Pitt how to elbow and scrape his way to tabloid glory (and free gift bags), and the two improvise a living out of meager freelance fees. Through an accident of timing, Pitt catches the eye of mega-selling pop princess Alison Lohman, whose popular aura helps launch his own unlikely career.
Though it scores a reasonable share of laughs, Delirious might have been better off if it weren't a comedy at all. DiCillo shows plenty of contempt for sleazy shutterbugs like Buscemi, who will step over their grandmothers to get a shot, but there's a pitiable side to celebrity worship, too. Buscemi boasts about a friendship with Robert De Niro and talks about stars being "just like you and me," but he dissolves into a puddle whenever he encounters one personally. At moments like these, DiCillo gets at how celebrity culture can erode a person's dignity and self-worth, and Buscemi's performance strikes just the right note between unctuous bottom-feeder and loveable loser. It's unfortunate that the rest of the movie tends to get too glib about the subject.