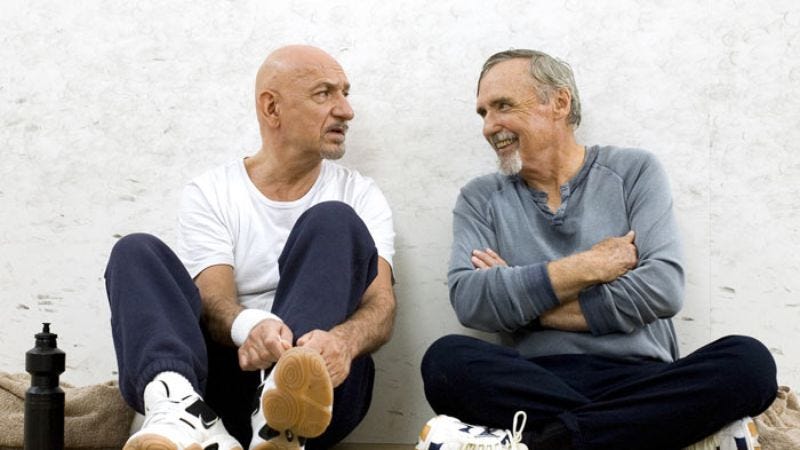 First seen talking to Charlie Rose about the lost tradition of American hedonism while singing the praises of '60s sexual liberation, Ben Kingsley looks dignified and authoritative in his role as an esteemed professor and cultural critic. He's a man dedicated to living in the moment; even though most of the world no longer shares his values, Kingsley makes them work for him. Well, mostly. His relationship with a former student (Patricia Clarkson) has thrived through decades of brief encounters focusing on no-strings sex. That seems to be all Kingsley needs until he's captivated by a much-younger graduate student (Penélope Cruz) with exquisite posture and an enigmatic smile. He can't believe she desires him, even after he's taken her to bed.
Working from Philip Roth's 2001 novel The Dying Animal, Elegy director Isabel Coixet captures all the pitiless, morbid introspection of recent Roth novels, but none of the fleetness. Elegy drops somberness and aridity where Roth places wit, even as he takes on the most distressing subjects. But while Coixet fails to translate Roth to the screen—and she's hardly the first—the movie still works fairly well on its own darkly meditative terms. Cruz delivers her best English-language performance to date. Her absence of chemistry with Kingsley can be a bit distracting, but it also seems hardwired into the material: These are two people ultimately not meant to be together, even if the barriers exist largely in Kingsley's head. In a performance filled with few sudden eruptions and much internalized distress, Kingsley easily conveys the nature of those barriers. He's a man committed to casualness who ends up in the grips of obsession and doubt, emotions he may have aged out of his ability to handle.
Elegy is at its best when it simply lets Kingsley brood his way through exquisitely lighted interiors, and at its worst when it spends too much time letting him directly vocalize his thoughts. The feints and obfuscations he brings into virtually every conversation reveal more than his voiceover interruptions, which make the film lurch when it should glide. As an acting showcase that builds to some unexpectedly moving moments, Elegy has much to recommend it. Had Coixet found better ways to connect those moments, she might have really had something to rival what Roth does on the page.