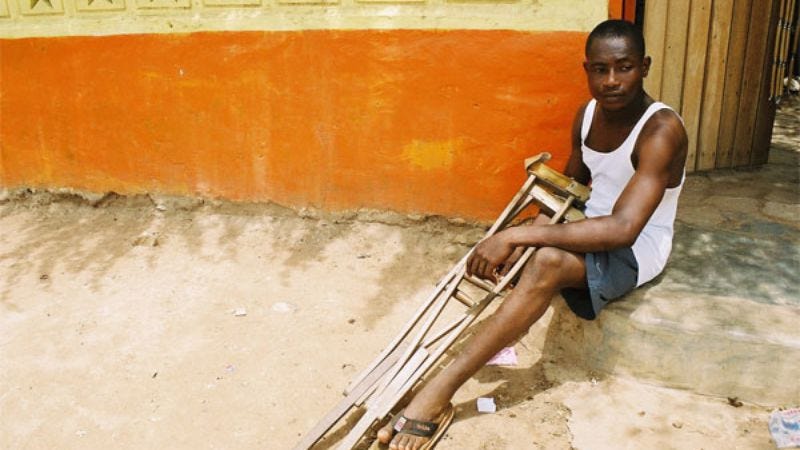 Emmanuel's Gift tells a story of perseverance and resilience so extraordinary and borderline superhuman that it seems to implicate the doughy apathy of the soda-sucking, popcorn-munching saps in the audience. The heroic struggle of its subject is clearly meant to inspire, but it also seems destined to shame weak-willed viewers who'd crumble under much less formidable obstacles.
Somewhat stiffly narrated by Oprah Winfrey, the film documents the life of Emmanuel Osofu Yaboah, a plucky Ghanaian youth born with one severely deformed leg in a country where disabilities are viewed as a curse and the disabled are ostracized, if not killed at birth. Yaboah's father abandoned the family immediately following Yaboah's birth, and his mother died while he was young. Yet in spite of these formidable obstacles, Yaboah embarked on a historic mission to bicycle across Ghana, a remarkable feat that made national news. He then traveled to America, where he received a prosthetic leg, befriended other disabled athletes, and competed in a triathlon before returning to Ghana to campaign tirelessly for disabled rights and greater participation for the disabled in sports. In the process, he's helped remove the stigma associated with physical disabilities and has inspired the disabled and non-disabled alike.
Gorgeously shot by cinematographer Samson Chan and filled with vibrant, vivid colors, Emmanuel's Gift slathers on the uplift, but it's to resist Yaboah's indefatigable optimism and overriding sense of purpose. While the film doesn't feel terribly intimate emotionally, that may be because a quest this epic and all-consuming has a way of swallowing an individual's existence. In some respects, the saintly Yaboah seems too good to be true, but if Emmanuel's Gift qualifies as hagiography, its subject at least seems to merit such reverence.