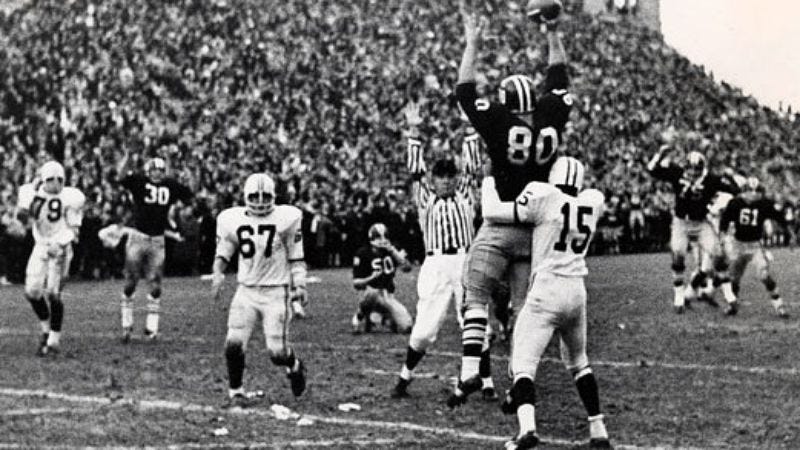 By 1968, a cresting wave of international youth unrest reached the campuses of the Ivy League, where Vietnam War protests and student strikes became increasingly commonplace. Yet on Saturday afternoons, hippies huddled with vets on the football field and in the stands, to represent their schools. At Harvard, Al Gore cheered on his roommate Tommy Lee Jones, one of the team's guards. Over at Yale, George W. Bush pulled for his roomie, and Meryl Streep sometimes showed up to root for her Yale boyfriend. And in the Yale newspaper, cartoonist Garry Trudeau poked fun at the whole phenomenon of football-worship, using Yale's quarterback Brian Dowling as the model for the overconfident "B.D."—a character still featured in Trudeau's Doonesbury today.
Kevin Rafferty's generally entertaining, intermittently exciting documentary Harvard Beats Yale 29-29 drops the names of all those now-famous people, even featuring an interview with Tommy Lee Jones. It also touches on the tumultuous times, while recalling one phenomenal game played between the two old rivals in '68. But because few file photos and little archival footage were available to flesh out the larger world this game took place in—and there's no narrator to streamline the story—Harvard Beats Yale lacks a necessary drive and ambition. Rafferty keeps the structure too simple, relying on lengthy excerpts from the game telecast, between players' reminiscences—which results in a lot of repetition.
Of course, it helps that Rafferty (a Harvard man) has a wild, unpredictable game to recount, with a heart-stopping ending. Much like the recent "remember when" documentary Man On Wire, Harvard Beats Yale 29-29 builds strong momentum in its home stretch, and sends the audience out on a high. But also like Man On Wire, Harvard Beats Yale takes its own significance as innate, and rarely strives to be anything more than one long anecdote. It's good to meet these men and hear their stories, and get some sense of what it was like to go to school at two of America's enduring institutions during a time when the aristocracy was out of favor. It's only a sense, though, not a deeper understanding.