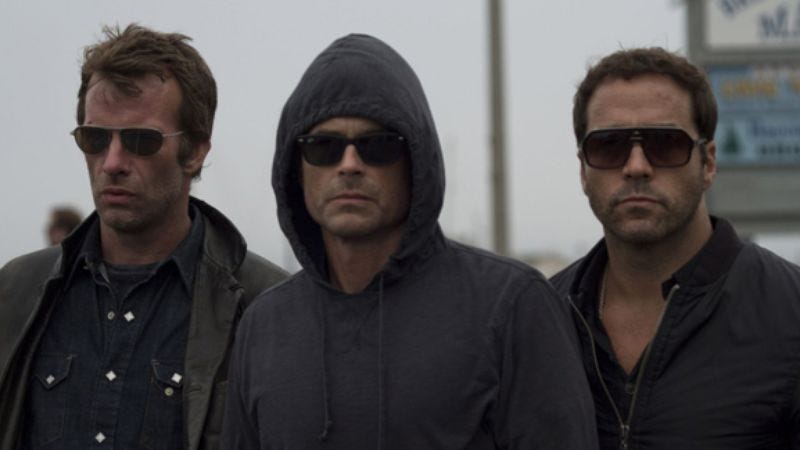 Crimes:
Magnifying the midlife crises of four well-to-do douchebags to a scale about a hundred times as melodramatically grandiose as the average Oliver Stone movie
Paying homage to John Cassavetes by imagining the dudes from Entourage, 20 years later, stranded in a real-life production of David Rabe's Hurlyburly
Goosing the action with an unrelenting assault of flashy cinematic techniques, courtesy of director Mark Pellington, who's best known for Pearl Jam's "Jeremy" video
Defenders: Pellington and actors Rob Lowe and Jeremy Piven
Tone of commentary: Defiant. More often than not, commentary tracks are recorded before a film is released, so the filmmakers cannot respond to its reception from critics and audiences. But this commentary was recorded after I Melt With You premièred to scathing notices at Sundance, so Pellington and his actors are in damage control—dismissing the damning insta-reactions that have so often been wrong in cases like John Cassavetes' Husbands or Straw Dogs, clinging to a smattering of laudatory IMDB comments and this-guy-came-up-to-me-crying stories, and marveling over the many cinematic grace notes that pass their line of vision. Sometimes they have to get creative about it, like praising the film's ability to get any kind of reaction, even if it's negative. (Piven: "The fact that you genuinely feel something from a movie is so rare.") Or confessing that only some people are going to like it anyway. (Lowe: "This movie is NOT—big caps—for everyone. And I think that's something that's kind of beautiful in this culture of entertainment.") Or comparing it to typical Hollywood swill. (Pellington: "It changed [a fan's] life. Who has ever said, 'My life changed when I walked out of a Ryan Reynolds movie'?") At a certain point, Pellington just sighs, "Fuck it. As [Alejandro González] Iñárritu said, 'We're not making hamburgers.' You can't please everybody. You know what… critics, bloggers, the universe out there… people are going to love it or they're not. Let's move on."
What went wrong: In broad strokes, not much, but Pellington and company are frank about some of the smaller moments that didn't quite work as planned. Of a scene where Thomas Jane asks a sexy young bartender to party at their lavish Big Sur beach house, Pellington says, "I'll admit that the stock music I put under this sequence is lame. It sounds like a Budweiser commercial." (He wanted to use a song by The Cramps, but didn't think a bar in Monterey would have that one on the jukebox.) Lowe recalls the gut-wrenching ordeal of shooting for eight hours on a boat in open water ("this fucking sequence"), which got so bad that a shot of Jane vomiting over the side was not faked. When I Melt With You turns ugly halfway through and the police get involved, Pellington admits that a scene where Lowe, playing a doctor turned prescription-drug pusher, saves the life of a man who goes into cardiac arrest "is a bit of a plotty, contrived moment."
Comments on the cast: Though Pellington is generous in praising all his actors, there are a few indications that Christian McKay, as the most troubled of the four hard-partying fortysomethings, was the odd man out. Where the other three actors knew each other at least casually, McKay was an "outsider" from Britain who came to the production jetlagged and having to do another accent. Before McKay's most difficult scene, a three-way with Sasha Gray and another man—"Welcome to the NFL," quips Lowe—Pellington recalls going "toe to toe for a good 45 minutes before the scene. He was like, 'I've done Hamlet!' He was so full of it."
Inevitable dash of pretension: In trying to frame I Melt With You as a case of a movie being ahead of its time or too provocative and raw for everyone to embrace, Pellington and his actors reach for analogs, including not only Husbands and Straw Dogs, but Andres Serrano's "Piss Christ" and legends like Prince and Beastie Boys getting booed offstage early in their careers. "How do I feel about the reaction to it? I don't care. We made it… 50 years from now, people will be able to look at this movie," says Pellington.
Commentary in a nutshell: Two gems from Lowe say it all: "Why does a shot of a flower with the right light on it make you want to weep?" and "I don't think hangovers and debauchery have ever looked so badass."