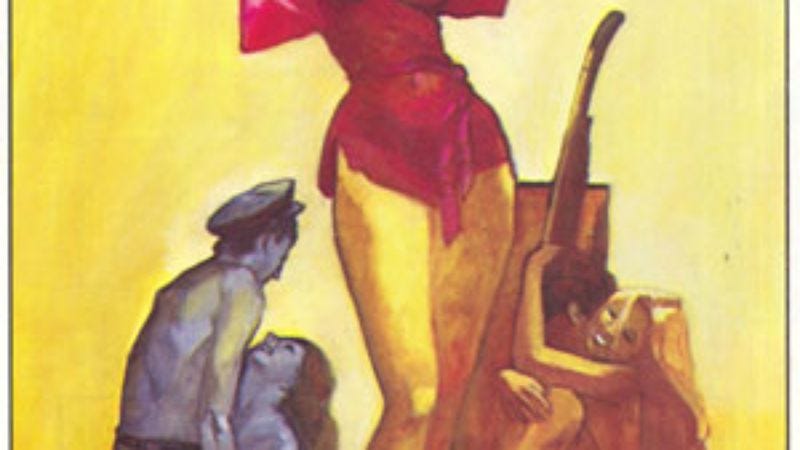 1. Get What You Pay For (1970)
Early X-rated movie trailers followed the time-tested exploitation model, promising to show us shocking scenes for our own good, because we need to know what really goes on in the world. In Get What You Pay For, we're promised a peek "behind the camera on an adult-movie set" to "see what kinds of girls work in these pictures." Which is a strange concept, because really, any adult movie shows how porn actresses "relieve their sexual excitement." Where's the exposé here? Still, bonus points to the filmmakers for the baroque synthesizer score that runs under the trailer, and for one of the more accurate titles in porn history.
2. Caught In The Can (1970)
According to this trailer's voiceover narration, this, "the latest masterpiece of erotic comedy," combines "the hilarity of Some Like It Hot with the freedom of today's screen." It also looks like it combines a $500 budget with the loan of someone's prison-movie set. Nearly all the action appears to take place in one cell, where two male muggers dressed as ladies unexpectedly score with their new female cellmates. The narrator goes to say that Caught In The Can has already been nominated for three Golden Beaver Awards: "Best Story, Best Action, and… well, you get the point."
3. Wet X-Mas (Undated)
The production values aren't so sharp on this low-budget, one-room production, and though the narrator refers to it as "the first X-rated Christmas story ever released," the only nod to the yuletide is a tree in the corner. That narrator is what makes this trailer memorable: He unaccountably adopts a W.C. Fields voice, drawling lines like "There's plenty of that white stuff in this picture, and I don't mean snoooow," "Watch Santa Claus shoot his loooad under the Christmas treeee," and "Santa comes but once a year, and he's going to come all over the screeeeen."
4. Lecher (1973)
An ugly mustachioed man sits on a New York park bench reading Swank, which somehow makes him desirable to female passersby—even those pushing baby carriages. "I don't know why they love me like they do do do," Mustache Man says, while the narrator repeats "Lecher: a man given to excessive or promiscuous sexual indulgence" over and over in a progressively louder voice, as though someone in the recording booth kept saying, "What?"
5. Lialeh (1973)
Blaxploitation porn, anyone? This trailer hits all the hallmarks of both genres, including a funky score and double-entendre lines like "It wasn't always easy coming up against Whitey, although sometimes it was fun." It also contains some over-the-top misogyny, including a scene where the hero inserts a carrot into a woman's vagina, then walks out of the room growling "So long, bitch, enjoy your lunch!" He almost tops that gem in the scene where he walks into a white nightclub, tells one posh dowager that she's won the door prize, then pulls out his penis and rubs it on her face.
6. Marriage And Other Four Letter Words (1974)
An American flag waves. A man and a woman run toward each other in slow motion. Someone reaches for a towel to wipe the semen off her belly. "This is the movie the world has been waiting for," the trailer's narrator tells us. "An old-fashioned movie about a boy and a girl." The narrator also insists that the film comes from a major Hollywood studio, but that the filmmakers have had to omit "the company's widely known trademark," because the studio bosses feared "the indignant outcry of little old ladies and other uptight stockholders." What could the fat cats possibly have objected to? Maybe the scene where a man walks in on his wife performing fellatio on a stranger, and the stranger says "If it's any consolation to you, Mr. Morton, she gives terrific head."
7. Sex In The Comics (1974)
Tijuana Bibles come to life as porn actors don papier-mâché masks and prosthetic penises, and re-enact the sexual antics of Major Hoople and Moon Mullins on intentionally sketchy sets. All of this is described as an "erotic fun festival of sex and laughter," but that really isn't the best way to explain the horrifying costumes and grotesque straight-from-the-eight-pagers scenes, like the one where Barney Google sticks his cartoonishly long penis so far into a woman that it pops out of her mouth.
8. Confessions Of A Teenage Peanut Butter Freak (1976)
The title alone sets this weirdo porno apart from the adult videos of today, which usually include the name of at least one sexual act on the box cover, followed by a number. Confessions has more of a counterculture vibe, starting with the unnamed blues-rock jam band that appears prominently in the trailer, and continuing through the mocking depiction of establishment types who use lines like, "Gosh, that would be swell." There's even some vague comment on the energy crisis in a shot of a naked woman stroking a gas pump, intercut with footage of John Holmes doing much the same, only without the gas. And yes, throughout the trailer, there's plenty of judicious and disgusting application of the eponymous sandwich spread.
9. Love Airlines (1978)
"It's here. I've seen it. I've been on it." So speaks the whispery-voiced narrator about this Airport homage, set on a plane that's "one big cockpit." While a catchy, string-soaked pop theme plays, the narrator gradually shifts from blankly describing the action to getting worked up, especially when he talks about Georgina Spelvin ("my cock gets hard just thinking about her") and her scene with John Leslie ("that lucky son of a bitch").
10. Doogan's Woman (1978)
There's apparently some kind of corporate intrigue afoot in this luxe late-'70s porno-soap, though that doesn't explain the scene where a couple gets it on in a bathtub full of noodles. Or the voiceover description: "In a world where intimate relations are as limp as spaghetti, and as thin as rungs on a ladder, what kind of shitpile has he fallen into?" The narrator often seems to get lost in the middle of sentences, winding through lines until he finds a good place to stop. For example: "As the object of her obsession, time will soon run out for Rick Trencher. He will shoot right into her trap, and… checkmate!"
[pagebreak]
11. Thoroughly Amorous Amy (1978)
"All the people on the block will be in for a pleasant shock when mischief finds a mistress," coos the narrator, but it's more likely that they'll be shocked when this sitcom-style trailer—complete with happy jogging girl, bouncy theme song, and wacky still photos—turns into an outright orgy. Or, as "Amy" says for herself, "It's a fun movie, all about the people I, well, you know… mmmm."
12. One Way At A Time (1979)
It's ostensibly a riff on the popular sitcom One Day At A Time, though the only real connection between the two is that the movie version features a cruddy apartment-complex exterior, a cast of characters that includes "two virgins and their super-sexy mother," and a coarse building superintendent who says things like, "The lady downstairs needs her carpet laid." Speaking of which, wouldn't a better title for this be One Lay At A Time?
13. Sweet Savage (1979)
Honest-to-goodness Hollywood character actor Aldo Ray stars in this "authentic 1800s adult Western," though the only remotely pornographic activity he engages in is watching women disrobe and cackling, "Oo-ee-oo!" Meanwhile, the filmmakers use the X rating as a license to end a punch-'em-out scene with a swift kick in the nuts, and to follow up a romantic lead's line "I've wanted to make love to you since the first time I saw you" with some tenderly explicit fucking.
14. Chorus Call (1979)
Yes, it's a full-on porno musical, featuring "those beautiful broads of Broadway, recruited from the Beaver Patrol." The trailer's trés-classy narrator invites us to think back to the days of Ziegfeld's Follies, when women danced in their scanties for the hoi polloi, and he implies that Chorus Call delivers what Ziegfeld only promised, saying, "You'll see them all onstage, backstage, below stage, and in various stages of dress and undress." He adds, "It won't leave a dry fly in the house." Again, classy.
15. Natural Lamporn's Frathouse (1979)
Animal House seems like an obvious candidate for a pornographic re-do, but the college life glimpsed in this trailer is limited to the claim that at Faulk University—good ol' F.U.—the professors tutor the students with "constant drilling." Instead, the trailer spends a lot of time on slow-motion disco scenes, and a fast-motion sex scene set to "The William Tell Overture." Meanwhile, the narrator addresses the audience watching this preview during intermission, "while your girl is eating your weenie and you've got your hand in her box… of popcorn."
16. Little Darlings (1981)
By 1981, the home-video boom was filling the coffers of the adult-movie industry, and since porn producers weren't shooting on video yet, they spent their home-video profits on handsomely shot romps that looked and sounded just like the teen sex comedies in the multiplex at the time. In this trailer, a bouncy pop song plays while a not-too-pervy-sounding narrator tells us all about "six young, beautiful, and naïve eager beavers, leaving home for the first time," including "Peggy—young and silly, but curious as hell." But some habits die hard, as the narrator lapses into the alarmist tone of old-school exploitation, warning us, "The sexual ignorance you'll witness will confirm your wildest fears about the utter failure of our sexual educational system," and, "If youthful sex, graphically portrayed, is not to your liking, do not come to see this film."
17. 8 To 4 (1981)
Dolly Parton had nothing to do with this hardcore 9 To 5 rip-off, though she should've collected royalties on the theme song, which sounds a lot like a certain crossover pop-country hit. Judging by the trailer, the movie has pretty much the same plot as its predecessor, except that instead of the Jane Fonda type busting the copy machine, she has sex on it. Oddly enough, the trailer's narrator sounds a lot like Lily Tomlin, and seems uncommonly aware of adult-film minutiae as she explains that 8 To 4 is by "the Louis brothers of Seattle… formerly of Detroit."
18. Puss N' Boots (1983)
Picture Private Benjamin or Stripes, but with insertion. The trailer for Puss N' Boots cuts together sex scenes and non-sexy basic-training footage over martial music, while an enthusiastic voiceover guy pretends to be a recruiter. "Drilling is just a part of today's Army," he says. And "Learn to pull out with the troops." Over a shot of cunnilingus, he bellows, "Once you taste Army life, you will never switch back." And the line "If your job sucks, and you want to get ahead…" matches a shot of exactly what you think.
Trailers courtesy of Something Weird Video's extensive line of XXX trailer DVDs.