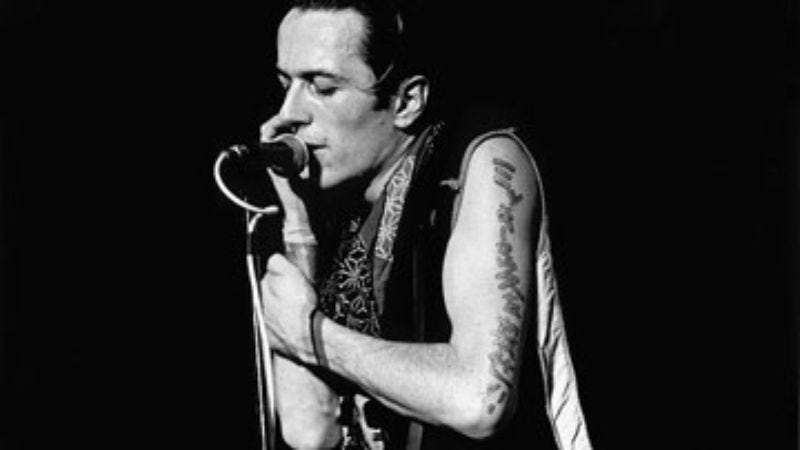 The Clash has already been the subject of Don Letts' excellent documentary Westway To The World, but Julien Temple's Joe Strummer: The Future Is Unwritten follows its own agenda, placing the band in the context of its primary singer and lyricist. Maybe half of the film's two-hour running time is Clash-specific, and even that hour is more about personality conflicts and the struggle to maintain ideals in the face of commercial success, not about the nuts and bolts of making London Calling. A large part of what made The Clash superior to other Class Of '77 bashers was Strummer's wit and curiosity, and after absorbing the whole of The Future Is Unwritten, fans will better know where that side of Strummer came from, and how it evolved before he died.
Strummer tells a lot of that story himself, through archival interviews and radio broadcasts, and Temple fills in the rest of the details through talking-head testimony from Strummer's old chums and famous fans like Johnny Depp and Bono (all unidentified, and all filmed talking next to a bonfire). Temple adds rare film of Clash rehearsals and performances and a flurry of snapshots, stock footage, and animation. Some of Temple's interest in Strummer's radical politics and personal contradictions lead him down dead ends, but he never dwells there long. The Future Is Unwritten is as overstuffed as Sandinista!, but it races ahead like "White Riot."
And the character it defines is worth knowing. Born into a respectable, world-traveling British family, Strummer became a tube-station busker and communal squatter in the early '70s, then fronted the talented pub-rock outfit The 101'ers before joining up with a trio of restless young punks to form The Clash. The combination of Strummer's experience and his mates' raw power—tempered by Mick Jones' flair for guitar melody and nuance—made The Clash a formidable force, onstage and in the studio.
The Future Is Unwritten is mainly concerned with the way the band explored a variety of pop and rock styles in its too-brief existence, and how Strummer drifted after the band broke up, doing a little acting and becoming a family man. Temple introduces viewers to Strummer the punster, Strummer the womanizer, and Strummer the poseur, whom his mates could only really talk to when no one else was around. But most importantly, it introduces the man who spent his last few years working through a torrent of ideas with his new band The Mescaleros, and touring around spreading a message of direct action and cultural unity that still inspires. "We're all alive," he'd say. "At the same time, at once."