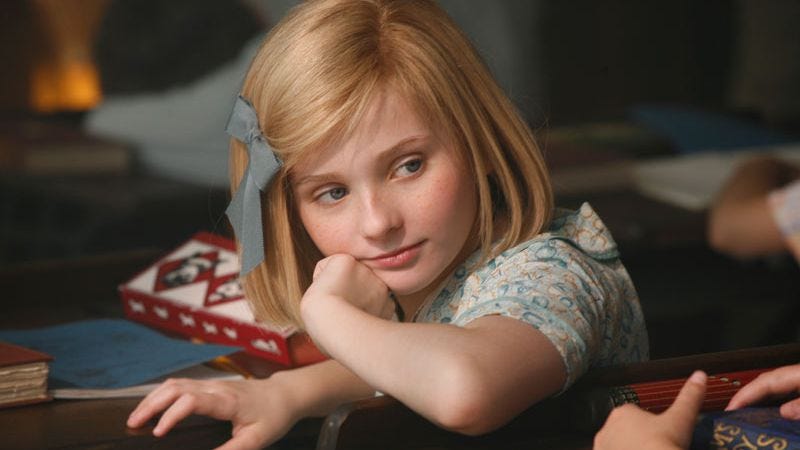 Making a movie based on an elite line of dolls sounds like a cynical marketing tool, but say this about Kit Kittredge, the scrappy li'l Depression-era reporter from Cincinnati: She stands to do more to advance the hobo cause than anyone this side of John Hodgman. After witnessing the silver-screen outing of the consumerist, cliquish Bratz dolls, parents will probably be happy with young Kit, who exhibits compassion, selflessness, and a prim, impeccable sense of style, even in a dress fashioned from a chicken-feed sack. Trouble is, such noble qualities rarely make for invigorating cinema, and Kit Kittredge: An American Girl languishes in G-rated earnestness, content to promote decency while soft-pedaling the outside forces that challenge it. It's all message, no tension.
What energy the film does muster is owed mostly to Abigail Breslin's plucky turn as Kit, a 10-year-old girl whose dreams of being a reporter are simultaneously inspired and short-circuited by the onset of the Great Depression. When her father (Chris O'Donnell) loses his job and has to leave town to find other work, Kit and her mother (Julia Ormond) are forced to make ends meet by turning their two-story home into a boarding house for other struggling citizens. The ever-gracious, adaptable Kit happily gives up the space to a range of new boarders, including a klutzy librarian (Joan Cusack), a glamorous would-be actress (Jane Krakowski), and a professional magician (Stanley Tucci). When a couple of hobo kids are brought in to do some work around the house, Kit gets the inside scoop on a series of alleged hobo robberies sweeping the area.
It would be cynical to dismiss Kit Kittredge as just another product to be shelved alongside the $100 dolls and overpriced accessories that line the American Girl store. Nevertheless, the brand must be protected, and the filmmakers work hard to buff out any rough edges, which is no small feat in a movie about sad, desperate, displaced people scraping their way through the Depression. (Is it too late to make a line of dolls based on Jesse Bradford's character in Steven Soderbergh's superior King Of The Hill?) By the time it reaches an action-packed finale that's choreographed like an ancient Keystone Kops short, Kit Kittredge has cornered the market on bland.