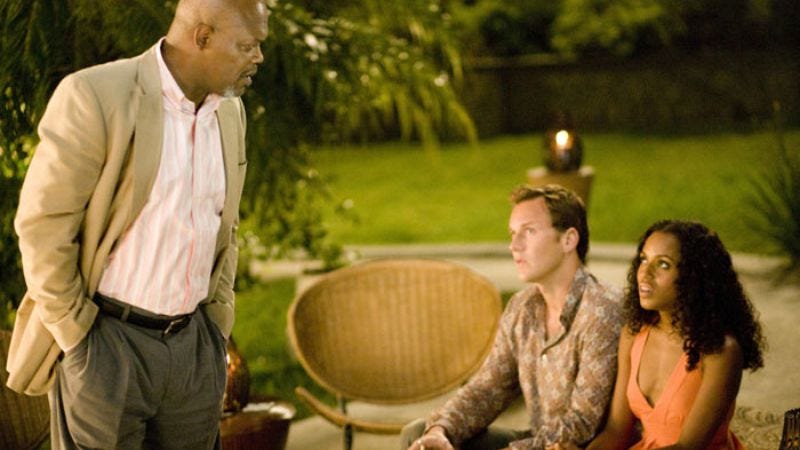 What more does Neil LaBute have to teach us about humanity that wasn't already apparent in his caustic 1997 debut feature, In The Company Of Men? There's nothing wrong with a filmmaker having a misanthropic worldview, but LaBute's is an unusually narrow one, predicated on the notion that men are engaged in alpha-male one-upmanship and women are, if anything, even more diabolical. Films like Your Friends & Neighbors and The Shape Of Things intend to reveal human needs and motives at their basest, but they're rigged for maximum shock value, and say more about an artist with an exceedingly sour point of view than they say about the foibles of modern man. So when LaBute pulls the grenade pin on racism and interracial relationships in Lakeview Terrace, viewers should know to duck and cover.
LaBute's nasty provocations are really the only thing that separates his overheated treatise on race and masculinity from run-of-the-mill home-invasion thrillers like Unlawful Entry or Pacific Heights. The misconceptions start with Samuel L. Jackson as a single police officer whose strict law-and-order mentality carries over into how he disciplines his two children and how he patrols his own neighborhood. His concern for morality and security, particularly as they relate to his children, might make him sympathetic—or at least understandable—but Jackson quickly morphs into a vicious caricature when a white man (Patrick Wilson) and his black wife (Kerry Washington) move in next door. Jackson makes his objections to their lifestyle and their relationship known immediately (by way of introduction, he fake-carjacks Wilson), and the hatred escalates from there.
Working from a screenplay by David Loughery and Howard Korder, LaBute supplies plenty of tense exchanges and even some insight into the difficulties interracial marriages face from within and without. But ultimately, Lakeview Terrace isn't about race so much as it's about being a man, which has been LaBute's fallback theme from the start. Jackson represents black power and dominance, Wilson is the epitome of white ineffectuality, and the situation goads Wilson into asserting himself and protecting what's his like Dustin Hoffman in Straw Dogs. Though LaBute picks at some intriguing contradictions in Jackson's persona—how his hectoring moral tone doesn't keep him from, say, hosting a stripper-filled bachelor party—but in the end, he becomes a monster along the lines of Aaron Eckhart in In The Company Of Men or Jason Patric in Your Friends And Neighbors. As usual, LaBute reduces when he means to reveal.