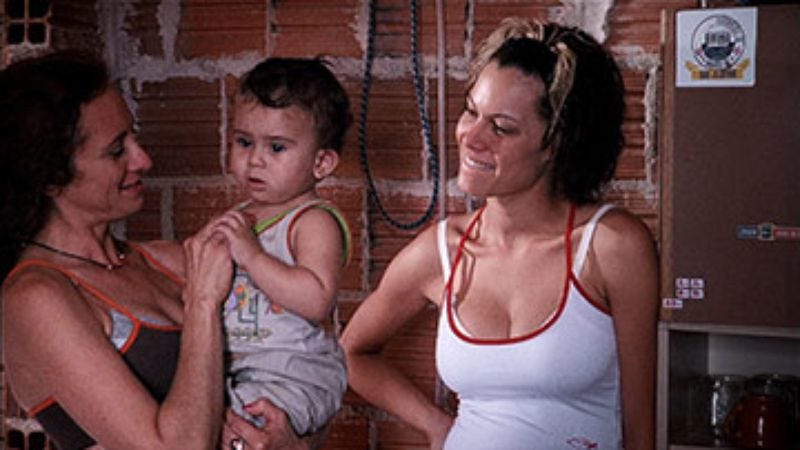 Just as Hermila Guedes' character in Karim Ainouz's Love For Sale changes her name to "Suely" to distance herself and her lifestyle choices from her family, so the movie has seen a name change for its American release. What once was the evocative, poetic Suely In The Sky has become something blunt and smirky, promising the kind of bright romp that this movie is decidedly not. Instead, the newly re-monikered Love For Sale is a tough-minded story about how to define self-worth, with Guedes playing a single mother stranded in her dinky hometown, attempting to make money by raffling off "one night in paradise" to the town's horny men.
Ainouz is one of those directors who pays almost as much attention to the quality of light on a dewy morning as to performance or plot, but he doesn't reject conventional storytelling. Love For Sale takes about half its run time to get around to introducing the prostitution premise, but the visual textures and moody slice-of-life scenes say a lot on their own, even when Ainouz is just emphasizing the difference between Guedes' soft, curvy body and all the dusty streets and rugged men around her. Pacing is a problem with Love For Sale, but meaning never is.
As a character sketch, Love For Sale is fairly one-dimensional: Guedes feels trapped, tries to regain control of her life, ends up insulting everyone she loves, and so forth. But it helps that Ainouz never lets the audience forget Love For Sale's haunting opening scene, which has Guedes dancing in grainy home-movie footage with the father of her child, while remembering how he told her he wanted to marry her and make her happy. She goes through a similar experience when she has sex with an ex-boyfriend and effectively kills the romantic promise between them. Later, when she hooks up with her raffle "winner," she wants to rush while he tries to prolong the experience, making her dance naked to Wham!'s "Careless Whisper." While she gyrates slowly, she disengages, as if trying to decide whether just being wanted is enough.