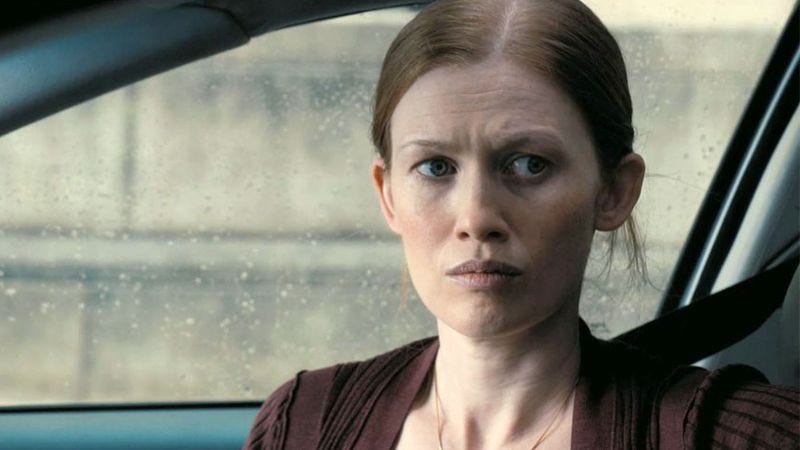 Welcome to Random Roles, wherein we talk to actors about the characters who defined their careers. The catch: They don't know beforehand what roles we'll ask them to talk about.
The actor: Mireille Enos got her start in the theater, making her mark on Broadway via a Tony-nominated performance in Who's Afraid Of Virginia Woolf? while also doing the occasional role in NYC-produced TV series. After moving to Los Angeles, Enos earned what would eventually prove to be the part of twins on HBO's Big Love, raising her profile to the point of pulling a leading role in AMC's The Killing a few years later. In addition to continuing her role as Detective Sarah Linden in the third season of The Killing, Enos can also currently be seen on the big screen as Brad Pitt's devoted spouse in World War Z.
World War Z (2013)—"Karin Lane"
Mireille Enos: Karin Lane is a mom and a wife, and she's not an action hero, but she sure is stubborn and fiercely determined to keep her kids safe.
The A.V. Club: Plus, she's married to Brad Pitt.
ME: [Laughs.] Yeah! Who was wonderful to work with, by the way. He's such a lovely guy and really hard working. He's just great.
AVC: So what was your familiarity with World War Z coming on to the project? Had you read the book?
ME: I had not read it at all, and I was so happy to read it once I had signed on to the project. I think Max Brooks has just spun a wonderful tale of humanity.
AVC: This is a rare instance where reading the book in advance of doing the film doesn't necessarily affect your performance, due to the way it's been adapted.
ME: No, absolutely. The film is totally inspired by that wonderful book, but they act as separate pieces.
AVC: How much of Karin was in the script when you got the role, and how much were you personally able to bring to the character?
ME: Karin was beautifully fleshed out. She just jumped right off the page for me.
AVC: Oftentimes the character of an action hero's wife isn't terribly well defined, but it sounds like there was enough meat on the bone for you from the get-go.
ME: There was. That's why I was excited to sign on to it: I didn't feel like this character was a sidekick. She felt very fleshed out and important to the family. And I loved the scene where they're talking about him having to leave, and it's clear that she's taking on her part of it, which is to keep those girls safe.
AVC: How much physicality was required of you for the film? You don't see as much action as Brad Pitt does in the film, but you certainly have some.
ME: Yeah! I mean, it was action packed. Again, Karin's not supposed to be a fighter, but she's certainly willing to fight. You know, I got to get a few good kicks into a zombie's head. [Laughs.]
Without Consent (1994)—"Naomi"
Face Of Evil (1996)—"Brianne Dwyer"
AVC: The farthest back of your onscreen roles that I could find was a pair of TV movies: Without Consent and Face Of Evil.
ME: [Laughs.] Face Of Evil! Yeah, that's the one with Tracey Gold, right? Where I get killed in an airport bathroom and then shoved into a suitcase and thrown into a landfill. It was a very unhappy ending for me.
AVC: Have you still got that one on your highlight reel?
ME: No. I do not. [Laughs.] In fact, I think that's still the only thing my mother has never seen of mine, because she couldn't bear to see me end that way.
AVC: So how did you find your way into acting in the first place? Was it something you started in childhood, or did you get into it in your teens?
ME: Well, growing up, my older siblings were very involved in theater, and it always seemed like such a magical world to be a part of, so I started in school. By the time I was in my teens, it seemed pretty clear that that's what I wanted to pursue.
AVC: You started in theater. Do you recall what your first theatrical production of note was?
ME: My first theatrical production of note… was probably The Diary Of Anne Frank in my senior year of high school. I played Anne.
AVC: How did you go about making the jump from stage to in front of the camera?
ME: Well, I started out in New York, and the theater was where I was initially the most comfortable. I definitely did a little TV here in New York, but I was predominantly focused on theater. Then, after doing a long run of Who's Afraid Of Virginia Woolf? on Broadway and the West End, I decided that I was ready to shake things up and head west. Once I got to L.A., within that first year, I had gotten the twins on Big Love, and it just went steadily from there.
Big Love (2007-2010)—"JoDean Marquart/Kathy Marquart"
ME: I loved those girls. [Laughs.] It started out as… it was going to be a three-episode arc as Kathy, and then Shawn Doyle and I just had a great time working together, and the writers responded to Kathy's character, so three episodes turned into six. And then the next season, they came to me with this wacky idea of adding JoDean, and, you know, my first question was, "Great! But… who is this other character?" And they said, "You know, we're not sure. We'll figure it out together!" And it was just really fun.
AVC: Was the prospect of playing twins intimidating?
ME: I just wanted to make sure that they were legitimately different people instead of, like, it's just so easy to fall into the trap of being archetypal. I'd already established Kathy as this really childlike, hope-filled person, so then it was interesting to explore what an antithesis to that would be. What happens to a person when they've lost their hope? And that was the starting place for JoDean.
AVC: Eventually, though, you went back to playing just the one twin again, when Kathy was killed in a car accident.
ME: Yeah, and that was planned out. I was just unaware that it was planned. [Laughs.] I found out after the fact that they created the character of JoDean because they already knew they wanted to kill Kathy, but they very sweetly didn't want to lose me from the show, which was so nice of them. So they created JoDean, and then poor Kathy went bye-bye, and I got to do a whole season just as JoDean.
Someone Like You… (2001)—"Yoga Instructor #1"
ME: Yeah, I think I said, "You can't go in there without your shoes!" And I, uh, think that was about it.
AVC: Are you a method actor? Did you study yoga to prepare for the part?
ME: [Laughs.] No, I have to admit, I don't have the patience for yoga. And I don't even consider that a film that I did, really. I spent, like, four hours on the set. That was just a blip. 

[pagebreak]
Gangster Squad (2013)—"Connie O'Mara"
ME: Oh, I had so much fun playing that girl. You know, Connie is pregnant in the movie, and in our story I have a little boy, but in actual fact Connie was pregnant with a little girl. And that woman who was that baby [Martha O'Mara] came to the set and watched a day of shooting. And it was the day that we were shooting the scene… I don't know if you remember, but Josh Brolin is putting together a crib, and I come in with a magazine, saying I want him to meet with this sharpshooter. I'm eating an apple, and at the end of the scene, I punch Josh Brolin in the chest… which was something I just kind of did. And afterwards, she said, "When I saw you punch Josh like that, I thought, 'There's my mama!'" [Laughs.] It was a very sweet moment.
AVC: As a mother yourself, how was it playing the scene where Connie gives birth?
ME: That sequence was very intense. Having delivered a child, I, uh, cannot imagine doing that alone in a bathtub. [Laughs.] Awful, right?
CSI: Miami (2008)—"Lucy Maddox"
Law & Order: Criminal Intent (2009)—"Julianna Morgan"
AVC: You've done a number of one-off appearances on various procedurals. Do you have any favorites among the bunch?
ME: Oh, what was that one? Yeah, there was one in particular that was great. It was one of the CSIs, I think…?
AVC: You did an episode of CSI: Miami.
ME: No, that's not the one I'm thinking of. Maybe it was an SVU?
AVC: Well, you did a Law & Order series, but it was Criminal Intent.
ME: Maybe it was the Criminal Intent, then? I was playing a girl who'd been attacked, and her dog had been killed. It was my first TV role that I landed after moving to L.A., and for a guest star, it was a really wonderful role. I just got to have some really meaty work in that one.
[Enos' description of the plot doesn't match up with her Criminal Intent episode—which would've been filmed in New York, anyway—so we're not 100 percent sure to which series she's referring, but her first guest spots after moving to L.A. were for Without A Trace, Standoff, and Shark, so we're presuming it's one of those.]
The Education Of Max Bickford (2001)—"Carla Byrd"
ME: Oh, wow. That's another one that was shot here in New York. She was a sad girl, I think. A sad, mixed-up girl who was striking or something.
AVC: She was also in a whole two episodes, unlike most of the other roles you were doing at the time.
ME: Right! Yeah, and I think there was actually a plan for her to be in more, but then the show was canceled, sadly. But I got to work with Richard Dreyfuss, and he was delightful. Wow, that was a long time ago…
Sex And The City (1999)—"Jenna"
ME: Yes! That's how I got my SAG card, in fact. I was in the episode with Valerie Harper. I played Valerie Harper's daughter's grumpy girlfriend. We were at brunch, and I was eating, like, bagels and lox, and Valerie Harper asked me, "How is your food?" And I said, "Very good." And then I had a SAG card. [Laughs.]
Rescue Me (2004)—"Karen"
ME: Oh! I gave a fireman my number while we were at a casket, right?
AVC: You sure did.
ME: Yes! [Laughs.] I haven't thought about that one in a long time.
AVC: How was it for you to do those one-off roles? You're going on to a series, working with people you've never met before, and then you're gone a week later.
ME: You know, it can be odd. You feel like it's the first day of school. But usually people are very sweet. Especially in a scene like that, which was just a charming, funny scene. Everyone was great for that one.
The Killing (2011-present)—"Sarah Linden"
AVC: The Killing is now in its third season, but it almost wasn't. That had to be kind of a crazy experience, to deal with the low of cancelation followed a few months later by the high of getting renewed again.
ME: Yeah, it was a strange road, because, you know, we were all so in love with the show, and then… well, whatever the various reasons were, the show got canceled. So you mourn it, and then you move on, because the life of an actor is… you're constantly walking away from projects, giving them up, and you have to kind of get into the mindset that whatever happens is the best possible thing that could've happened. So the show got canceled? Okay, that means there's something else great around the corner! And I had actually gotten really peaceful about it. And then the show came back. So I said, "Well, that's the best possible thing that could've happened!" [Laughs.] So away we went!
AVC: It's inarguable that The Killing is a really dark show. When you took on the role of Linden, did you try to find the light where you could, or was maintaining the darkness a necessary requirement for the tone Veena Sud was looking for?
ME: Well, I think it's interesting to be able to offer glimmers of light. That's how you keep a person three-dimensional. There are the moments when she's with her son or moments when she allows herself to just be herself, or whatever it is, and I think Veena is very sensitive to that, too. If you only play dark dark dark, then your audience is going to stop caring at some point.
AVC: As far as the critical reaction to the show at the end of the first season, were you startled by the outcry?
ME: I was! Because it had been such a lovefest, and what we kept hearing was, "We love these characters! It's so great to spend so much time with them!" Until suddenly it was, "Except not if we're spending time with them in season two!" [Laughs.] You know what I mean? It was a pretty abrupt change. But, you know, it's not completely lost on me that the show took a number of twists and turns that required patience on the audience's part, and it's possible that we could've done it in a more timely manner. I still don't think it was a mistake to go into season two [with the Rosie Larsen murder], but… well, anyway, in this season, season three, we're solving it in one, and it definitely means that the pace is more aggressive, and I think it's really satisfying.
AVC: You've gotten to have some great scenes with Gregg Henry this season, letting Linden show off her spunk.
ME: [Laughs.] Yeah, isn't he great? Linden and Reddick clearly don't like each other very much.
AVC: It's got to be nice to play off new people this season.
ME: Oh, it is, and we've got such wonderful actors this year: Peter Sarsgaard, Elias Koteas, Gregg, as you mentioned, and Amy Seimetz is wonderful. It's been a really exciting season to shoot.
AVC: With the new season, there are times when it almost feels like a Law & Order series. Do you think there's been a concerted effort to make the show more accessible this time around?
ME: It's possible. You know, I know that Veena really wanted to listen to the feedback from the audiences and kind of walk a line where the show could be satisfying to a large audience but where people who like the slow pace and the dreariness would get that, and the Holder relationship. She wanted to offer something for everyone while still holding true to her vision.
AVC: Does it feel different to you this season?
ME: It does. It feels darker, actually. And it feels more aggressive, like I said. But the world feels larger, the case is larger, and then, you know, it's also dealing with some important social issues, with the teenage homelessness and death row. It's some pretty heavy-hitting stuff.
AVC: So when you finish a season of The Killing, do you have to, like, go home and listen to "Shiny Happy People" on repeat for a few hours to shake off the darkness?
ME: [Laughs.] No, I just go home to my house and hang out with my baby. It's very helpful.