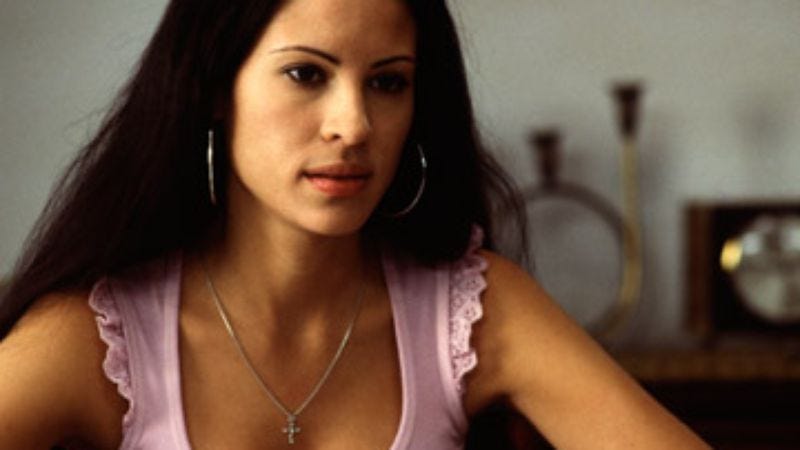 If the silent-film era had allowed for sexually explicit scenes, they might have looked like the most memorable moment in Princesas. On an honest date, All About My Mother star Candela Peña—playing a call girl in no danger of seeing 29 again—grows nervous when she spies a client dining at the same restaurant she and her date are visiting. Excusing herself, she goes to the restroom, only to find the client blocking her exit and promising 100 euros for an on-the-spot blowjob. She declines. He ups the offer. She sadly consents, using her spare hand to clutch the money while tending to business.
It's an effective piece of sledgehammer filmmaking, made all the more gripping by the cumulative effect of Peña's vulnerable performance. But like everything else in Fernando León de Aranoa's follow-up to Mondays In The Sun, it's a bit too much. Aranoa shoots melodramatic situations and catty dialogue in a naturalistic style when he might just as well shoot it like a melodrama. If you're going to hit below the waist, why pull your punches?
On the other hand, Aranoa's approach allows for an occasionally fascinating look at how the oldest profession works in modern Spain, particularly when he moves the action to a hooker-hangout beauty salon overlooking a plaza that's become an open market for immigrant prostitutes who undercut the local trade. Going against the grain, Peña befriends Micaela Nevárez, a Dominican who divides her time between the streets and an apartment she splits in shifts with an immigrant family. Together, she and Peña talk about leaving the life, but the talk only gets them so far.
The film only gets so far, too. Once Aranoa has established the circumstances of his heroines' lives, Princesas doesn't really have anywhere to go. It's well-acted and strikingly shot, and its depiction of contemporary Spanish squalor is hard to forget, but it never quite reconciles its high-drama situations with its low-key approach. It whispers when it really wants to shout.