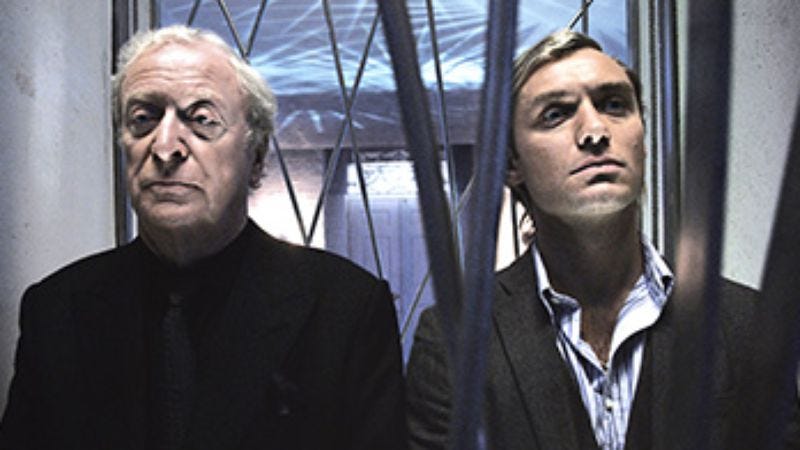 The 1972 version of Sleuth, adapted by Anthony Shaffer from his 1970 play, isn't a terribly good movie: It's plodding, overlong, stagebound, unconvincing at nearly every turn, and dated in its then-daring, now-mothballed treatment of male gamesmanship and sexual tension. But it was, at the very least, an entertainment, a spirited riff on Agatha Christie-type yarns that featured two titans of acting, Laurence Olivier and Michael Caine, going toe-to-toe. That much can't be said of Kenneth Branagh's mostly awful remake, a glibly postmodern, laughably baroque experiment that's determined not to let anyone have a good time. Commissioning Harold Pinter for a rewrite—though the famous playwright reportedly never read the play or saw the original film adaptation—Branagh has succeeded in streamlining the '72 version by nearly an hour. His film is faster, more amplified, and thoroughly Pinter-ized, which in this case means cutting every other word in Shaffer's play and having The Actors. Talk. Like. This.
Into the hall of mirrors the film goes by casting Caine in the Olivier role and Jude Law, who recently did his own Caine impersonation in the ill-fated Alfie remake, in the younger part. In an attempt to win his lover a divorce from Caine, Law visits the obscenely wealthy author on his gimmick-filled estate, which looks more like a contemporary art museum than a living space. After some verbal jousting, Caine convinces Law to steal a million-dollar necklace from Caine's safe, under the logic that Caine will get the insurance money and Law will have the means to keep Caine's ex in the lifestyle to which she's accustomed. Sounds like the perfect crime, provided that Law doesn't pause to think about it for half a second.
It isn't Branagh and Pinter's fault that the robbery scheme doesn't make sense, and it isn't really their fault that Shaffer's play simply doesn't work as a movie, partly because the transition between acts one and two need to be separated by a curtain (and refreshments) to keep the story plausible. In all other respects, however, Sleuth finds Branagh and Pinter at their absolute worst, with the former dressing up the stagy material with overbearing technical flourishes, and the latter splicing the dialogue until it's all rhythm, no meaning. No doubt the list of talent involved in this remake sounded great, but the project hasn't been thought through as anything more than an arch exercise in style. And even in that trifling end, it fails utterly.