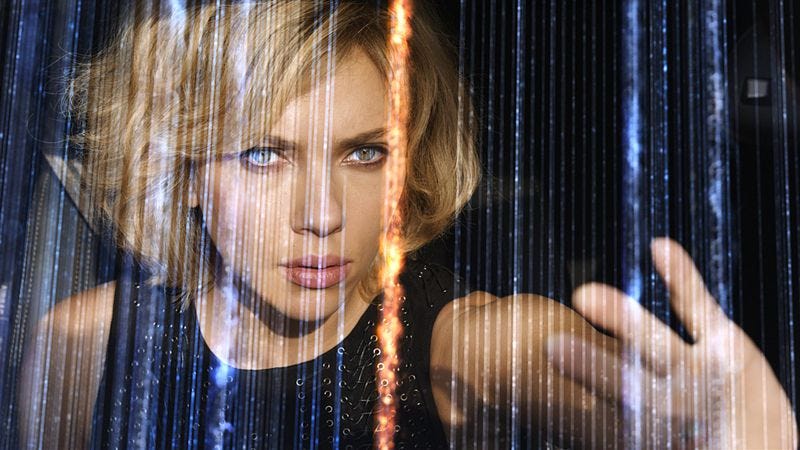 1. You'll get hauled into a silly, millennia-old war.
Of all the fallacies regularly perpetuated by pop culture, none are quite as narratively useful as the erroneous scientific "fact" that humans use only 10 (or 8 or 20 or anything less than 100) percent of their brains. Often, this old chestnut is employed as a casual blow-off explanation for superpowers and special abilities, a cheery hand-wave to the audience that denotes, "We don't want to talk about this, we want to get to the action." That's certainly the case with this week's Lucy, which casts Scarlett Johansson as a woman who unlocks the full potential of her mind. It also applies to the thoroughly silly 2010 Nicolas Cage film The Sorcerer's Apprentice, which dumps Jay Baruchel into an ancient war between "Merlinian" wizards and "Morganian" wizards, each descended from their namesakes of Arthurian legend. Sorcerers don't get a choice about having their powers—they're just born with, as Cage says, "the capability to use the entire power of their brains" instead of the usual 10 percent. And yet Cage also claims magic is science. He says a lot of bullshit throughout the film, really, but the upshot is that nerdy Baruchel gets to save the world and get the girl, all because his brain is 10 percent normal, 90 percent full of Merlinian Chosen One status. [TR]
2. You'll suffer blackouts and go through fatal withdrawal—until the dormant sections of your brain come up with a convenient solution.
Any drug capable of turning Bradley Cooper into a genius is bound to have some major side effects. So talk to your doctor before taking NZT-48, the nootropic enhancer introduced in Limitless—or, more accurately, in the source material, Alan Glynn's The Dark Fields, where it was called MDT-48. "You know how they say we can only access 20 percent of our brain?" a pusher asks Cooper's character, Eddie. "This lets you access all of it." And sure enough, no sooner has Eddie popped the wonder pill than he gains full control of his cerebral capacities, knocking out a hit novel in an evening and beating up a gang of subway thugs using moves remembered from a Bruce Lee movie he half-watched on TV years earlier. Only later does the hero find out about the fine print: NZT-48 may cause blackouts, during which he may or may not murder some random woman he seduced with his fully functioning noggin. And the withdrawal's a total drag, seesawing Eddie from Sherlock Holmes braininess to Forrest Gump stupidity, before causing that most grave of pharmaceutical deal-breakers. All things considered, it's probably smarter to just get a Lumosity membership—unless, like Cooper's character, one can figure out how to permanently retain the pill's powers. Ironically, enjoying Limitless may require a drug that disables large portions of the brain. [AD]
3. You'll wear sweater vests, become insufferable, and never have sex again.
In the season-eight Seinfeld episode "The Abstinence," George's new girlfriend announces she has mono, forcing him into a period of celibacy that gradually transforms him into a dapper, literate, intellectually curious polymath. Being George, of course he's a dick about his newfound skills, sweet-talking the Portuguese waitress at Monk's in her native tongue, smugly lecturing Derek Jeter about the physics of hitting, and responding to one of Jerry's putdowns with a condescending, "Simple joke from a simple man." The explanation, as Jerry helpfully elucidates with the help of a head of lettuce, is that completely removing the possibility of sex frees up the massive portion of the Costanza brain perpetually used in pursuit of sex. Judging from the relative sizes of the tiny scrap of lettuce Jerry uses to represent George's intellect versus the rest of his (lettuce) head devoted to sating his libido, George typically uses far less than the mythical 10 percent (it looks closer to 0.5 percent, if that). It's an estimate proven more or less accurate when George, even in his heightened mental state, calculates the odds and still sleeps with that waitress, robbing himself of his newfound, short-lived genius. [DP]
4. Jared Harris will stalk you and try to indoctrinate you into his cult.
When it first aired, Fringe seemed to be nothing more than J.J. Abrams' loving homage to The X-Files, with mad scientist Dr. Walter Bishop playing Mulder to FBI Agent Olivia Dunham's hard-nosed Scully, and son Peter Bishop caught in the middle. But by the end of the first season, it was clear the relationships went much deeper. Peter turned out to not be Walter's son, but a copy, kidnapped from a parallel world. And Walter had experimented on Olivia as a child, enhancing her brain with Cortexiphan, a made-up drug that combated the natural "limitation" of her brain, gave her telekinetic powers, and allowed her to visit the alternate universe at will. Naturally, someone with those kinds of skills on her resume is bound to receive unsolicited job offers, as Olivia does from Jared Harris, as an unnerving, amoral criminal mastermind who's determined to bring her into his technology-obsessed doomsday cult. In later seasons, Olivia suffers at the hands of a far more sinister force: bad writing, as Cortexiphan eventually becomes magic juice, doing everything from powering a doomsday device to spontaneously healing a bullet wound to the brain. [MV]
5. You'll be consumed by paranoia about Major League Baseball.
In the season-11 Simpsons episode "Brother's Little Helper," Bart proudly announces that, "Most people use 10 percent of their brains. I am now one of them!" It's all thanks to Focusyn, a fictional hyperactivity drug prescribed to Bart after his latest school prank gets him diagnosed with ADD. At first, he starts paying attention in school and behaving at home, but soon he becomes consumed with paranoia, convinced that Major League Baseball is using spy satellites to monitor the town. He's right, naturally, but after shooting down a satellite and exposing the plot, home run king Mark McGwire shows up to dazzle Springfield by hitting a few dingers. The spying is swept under the rug, and Marge takes Bart off Focusyn and put him on a simple regimen of "hugs, fresh air, and good old-fashioned Ritalin." [MV]
6. Kyra Sedgwick will fall in love with you.
George Malley of Phenomenon has a massive brain tumor destined to kill him. The silver lining: His tumor doesn't destroy brain function; it enhances it, meaning his brain is more active than any one ever tested. Malley (John Travolta) gains the ability to rapidly read books, learn Portuguese over the course of an evening, find missing children, move pens with his mind, and solve the world's energy crisis. But, most importantly, he also figures out how to woo the local single mom (Kyra Sedgwick), who continuously rebuffs our hero until he starts exhibiting abnormal behavior, which is probably not very healthy for a single mom. After Malley escapes the clutches of an evil neurologist (Brent Spiner), he and his boo cuddle and stare longingly into each other's eyes before he lets her know that he's going to kick the bucket, like, immediately. Before he dies, though, Malley also sets the wheels in motions to get his good buddy (Forest Whitaker) laid. Who knew a fatal brain tumor could up a guy's game so much? [ME]
7. You'll become a smug, superior douche who has to answer to the Vegan Police.
In Scott Pilgrim Vs. The World, Edgar Wright's film version of Bryan Lee O'Malley's comic, nebbish whiner Scott (Michael Cera) has to battle his new love interest's seven evil exes before he can date her. One of them, pompous vegan Todd Ingram, is a well-built hulk (played, naturally, by one-time Superman Brandon Routh) who claims to owe his super-strength, powers of flight, and mind-reading to his vegan diet. "Okay, you know how you only use 10 percent of your brain?" he tells a bystander wondering how soy milk confers superpowers. "That's because the other 90 percent is filled with curds and whey." Problem is, the price of vegan-based full-brain use is unbearable self-righteousness about the vegan lifestyle—not to mention perpetually risking the wrath of the Vegan Police, who are always waiting to use their "de-veganizing rays" to punish any vegan who lapses even slightly. Apparently it just takes one sip of half-and-half, and maybe a little chicken parmesan, to instantly restock that extra brain space with curds and bring erring vegans back to Earth. [TR]
8. Your sense of taste will change dramatically.
In Albert Brooks' romantic comedy Defending Your Life, everyone who lives on Earth uses only 3 to 5 percent of their brains, their primitive minds dominated by fear. After death they have to prove that they lived courageously in order to become a more enlightened being, with the failures returning to Earth for another go-around. While awaiting his trial, Brooks' recently deceased character Daniel Miller gets to enjoy eating the most delicious food he's ever had without any fear of weight gain. But his attorney, the more cognitively advanced Bob Diamond (Rip Torn), uses 48 percent of his brain—a cranial increase that helps him move beyond such mortal delicacies as pasta and hot dogs. When Diamond dines with Miller, he eats a meatloaf-like mess he describes as tasting "a little like horseshit" to a normal person but very different to him because of his brain's ability to manipulate his senses. Still, it's easy to sympathize with Miller, who takes one look at his lawyer's unappetizing meal and wonders aloud, "This is what smart people eat?" [SN]
9. You'll have delusions of grandeur, try to take over the world, and end up in a mental institution.
The Shadow—Universal's 1994 attempt at replicating the success of the Tim Burton Batman movies—is one of the strangest wannabe blockbusters of its era, a '30s-set art deco pulp fantasy in which a reformed opium kingpin battles evil using the powers of Buddhism, taxi cabs, and pneumatic tubes. The big bad—a flamboyant, Brooks Brothers-obsessed self-styled warlord named Shiwan Khan (John Lone)—has developed powerful telepathic and telekinetic abilities by learning to activate an unused portion of the brain. What Khan hasn't learned, though, is impulse control, which leads him to construct an atomic bomb (powered by "bronzium"), the detonation of which will serve as the first step in his plan to conquer the world. A little emergency brain surgery robs Khan of the source of his powers, but not his megalomania, and he ends the movie as a straitjacketed mental patient, trying—and failing—to control the minds of his doctors. [IV]
10. You'll be haunted by visions of the apocalypse.
Based on the Stephen King novel of the same name, The Dead Zone television series follows the un-creatively named Johnny Smith (played by Anthony Michael Hall), a man who spends six years in a coma after a massive car accident. When he awakens, he discovers his brain has compensated for the damaged parts by activating a previously unused area, the titular "dead zone," that also gives him the power to see the past or future by touching objects or people. He uses this power to solve crimes, help individuals in need, prevent deaths, and get fun views of things suspended in mid-air as time freezes around him. But he's also haunted by visions of an apocalyptic future, possibly caused by an ambitious young politician's rise to power. In the book, those predictions lead to Smith's death during a botched assassination attempt, but the show was canceled without a proper finale. [SN]
11. You'll never accomplish anything again.
Mega-bestselling British author Terry Pratchett frequently uses his Discworld fantasy novels to dissect real-world settings and systems, from politics to the post office. His 1992 novel Small Gods is one of his best: It examines religious belief, religious hypocrisy, and faith through a stand-alone story about a once-powerful god turned into a small, hapless turtle. Small Gods is even more ambitious than most of Pratchett's work because it takes on such big and serious subjects. But as usual, Pratchett leavens any seriousness with random, entertaining editorial asides, like one dismissing the 10-percent-brain theory: "Not even the most stupid Creator would go to the trouble of making the human head carry around several pounds of unnecessary gray goo if its only real purpose was, for example, to serve as a delicacy for certain remote tribesmen in unexplored valleys. It is used. And one of its functions is to make the miraculous seem ordinary and turn the unusual into the usual." In his vision of things, a humanity trying to subsist without all that miracle-dampener would never accomplish anything except marveling goggle-eyed at the world, "wearing big stupid grins, similar to those worn by certain remote tribesmen who occasionally get raided by the authorities and have the contents of their plastic greenhouses very seriously inspected." [TR]