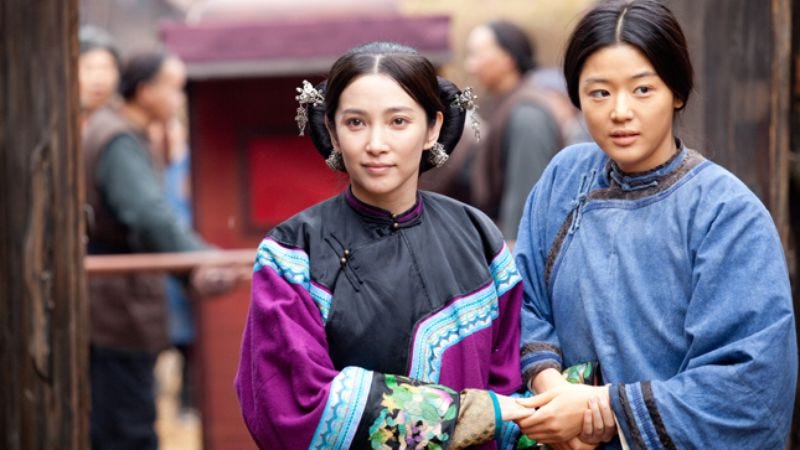 Though his career's wandered down plenty of other interesting (Smoke) and less interesting (Because Of Winn-Dixie) paths, director Wayne Wang will always best be known as the premier chronicler of the lives of Chinese-Americans and Chinese in America on screen, from his influential debut Chan Is Missing to The Joy Luck Club. It's a subject he's returned to recently with 2007's digitally shot double feature A Thousand Years Of Good Prayers and The Princess Of Nebraska, and in Snow Flower And The Secret Fan, he takes a step further, setting the film entirely in China. Adapted from Lisa See's novel of the same name, and chronicling two female friendships separated by centuries, this latest film aims for The Joy Luck Club's crossover appeal but ends up stilted and emotionally remote.
See's book is about the lives of two sworn friends in the 19th century, Lily (Li Bingbing) and Snow Flower (My Sassy Girl's Gianna Jun), and the film adds a present-day thread in which the same actresses play women living in Shanghai, with Lily preparing to transfer to New York and Snow Flower struggling after a failed relationship with a expat nightclub owner (Hugh Jackman, who sings in Mandarin!). The parallel stories allow for interesting echoes: The theme of bound feet in the older tale is matched to a shot of contemporary Lily massaging her insteps after shucking off a pair of high heels. But the structure also means that the arcs of both friendships are compressed when they're supposed to epic.
In the past, the two girls are quickly separated by their respective marriages, and much of their communication takes place via messages written on silk fans. The present is framed like a mystery, with Lily investigating her estranged bestie's life after Snow Flower is badly injured in a car accident. The restrictions placed on the choices available to these women come through more strongly than their connections to each other, and the value of deep friendship is discussed more than it's portrayed onscreen.
Some of awkwardness is due to the fact that the Korean Jun and Chinese Li spend half the film speaking English, with which neither seems comfortable. (Jun reportedly took Mandarin lessons to prepare for her scenes as Snow Flower, though at least some are dubbed.) The subtext, intentional or not, that emerges from the film's overabundance of comforting embraces and face-caressing is that beneath this sisterly love spanning the ages is a deeply repressed love that dare not speak its name.