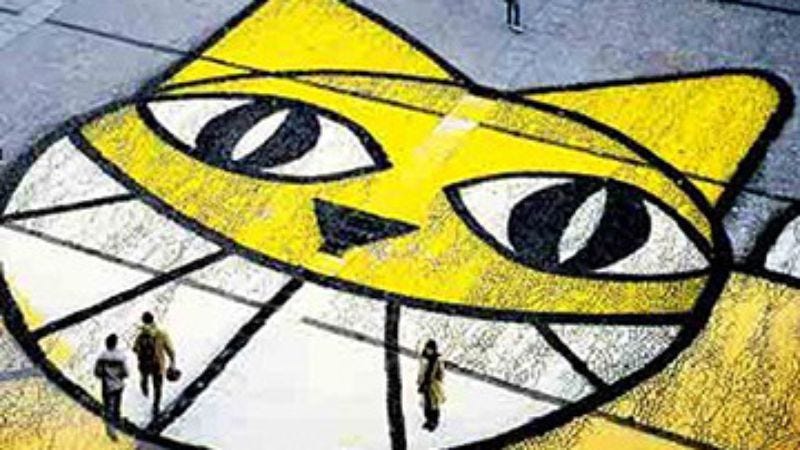 Chris Marker is often referred to as the pioneer of the "essay-film," which makes his work sound far drearier than it actually is. It may be better to think of him as a charmingly provocative conversationalist, with a store of useful visual aids. In The Case Of The Grinning Cat, Marker starts off with a great dinner-table topic: Has anyone else noticed the cartoony cat paintings that have been popping up all over Paris? Then he talks—or rather, narrator Gérard Rinaldi talks on his behalf—about all the places he's seen the cats, including high atop buildings, down in Le Metro, and on placards carried by young people protesting the war in Iraq. Maybe, he suggests, these cats are a symbol of an emerging, politicized generation.
The Case Of The Grinning Cat is a sequel of sorts to Marker's epic three-hour 1977 documentary on the decline of the left, A Grin Without A Cat—though this new work is both shorter and more playful. Marker pauses to reflect on how the French word for "cat" is the same as the English word "chat," which makes it harder to Google, and he considers the phenomena of flash mobs and nation-galvanizing events like the World Cup, all while working toward an understanding of Parisian politics post-9/11. Aside from the U.S. invasion of Iraq, the early 21st-century moment that most rouses and unites French activists is the country's 2002 presidential election, where a clutter of leftists split the vote and stuck the electorate with a choice between conservative Jacques Chirac and ultra-conservative Jean-Marie Le Pen. Leftists took to the streets to keep Le Pen out, garnering more than 80 percent of the vote for a president they didn't really want.
What does all this have to do with some silly cat graffiti? Marker seems to indicate that the stirrings of hope he felt when he first saw young people marching under the sign of the cat have been quashed as he's watched his comrades and fellow-travelers continue to get bogged down with special-interest in-fighting and disorganization. Marker, still most famous for the science-fiction photo-film La Jetée, continues to believe in the deceptive power of images, and the most damning shots in The Case Of The Grinning Cat are of an Iraq War protest that consists of people lying on the ground, pretending to be corpses. In other words, doing nothing at all.
Yet The Case Of The Grinning Cat isn't completely bleak. Even when the cat fad fades, replaced by the celebrity scandal du jour, Marker at least remembers that they were there, scattered across the city, representing either the untapped potential of a crafty generation, or perhaps the shadow of the people's will.