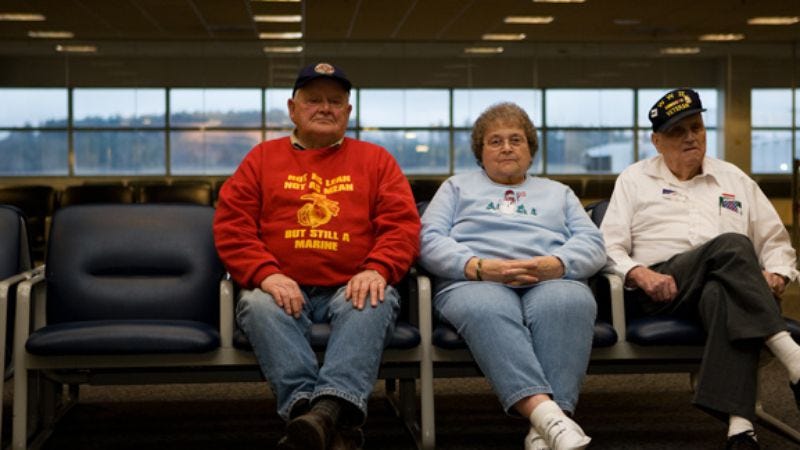 The Bangor International Airport is the first piece of America a lot of soldiers see when they return from overseas, and some of the first faces they see are those of a group of senior citizens who've volunteered to welcome them home. Aron Gaudet's documentary The Way We Get By follows three such seniors from the airport lounge to their own living rooms, where they talk to Gaudet about why they feel compelled to thank these young men and women for their service—and also why they fear for their future. The Way We Get By is neither pro- nor anti-war; it's a somber study of perpetually unsettled lives.
It also feels more like a short film than a feature. Though a lot happens to Gaudet's subjects—from bankruptcy to disease to anxiety over deployed grandchildren—the film's basic tone and structure never varies. The scenes of appreciative soldiers going through the homecoming rituals of paying their respects to the dead and calling home on the airport's complimentary cell phones are interspersed with scenes of elderly folk ruminating about mortality, all set to the same dreary, droning guitar soundtrack. The last 20 minutes of The Way We Get By are really no more or less effective than the first 20 minutes.
That said, the movie is dotted with small, moving moments. Some are startling, like the shot of one man giving a tour of his soon-to-be-auctioned farmhouse, which is littered with empty Alpo cans. Some are sweet, like the scene of a greeter trying to pick out the best kind of candy for military types, or the scene of soldiers from warmer climes enjoying the Maine snow. And of course it's hard not to be touched when a cancer-ridden greeter weeps and tells Gaudet, "I've got nothing to live for except what I can do for other people." How poignant that it takes so many years of living before that lesson is fully understood.