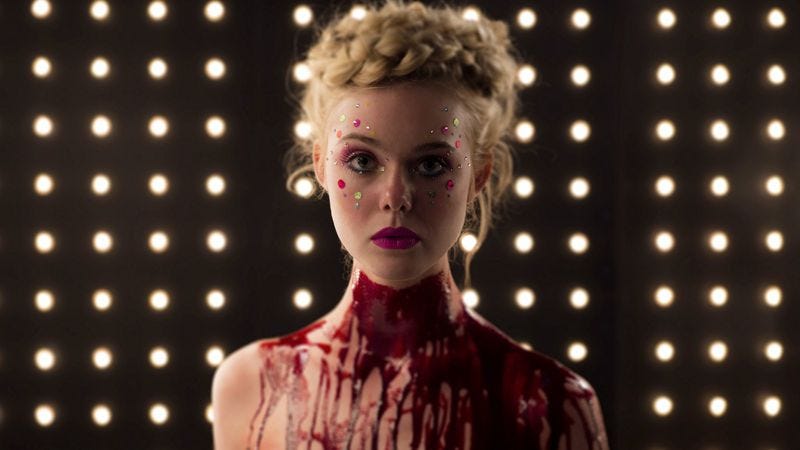 Even though The A.V. Club's Mike D'Angelo gave it a lukewarm C+ review at Cannes— "the movie ultimately doesn't have a narrative so much as it has a Message, and while Winding Refn doesn't actually go so far as to spell that Message out in big neon letters, he might as well have," he writes—the arrival of a new Nicolas Winding Refn movie is still a movie-going event. That's why we've partnered with distributor Broad Green Pictures to sponsor a series of screenings of The Neon Demon all across the U.S., all set to take place early next week in advance of the movie's official premiere on June 24.
Twenty cities—New York, Los Angeles, San Francisco-San Jose, Jose, Chicago, Philadelphia, Dallas, Washington, DC, Boston, Atlanta, Phoenix, Houston, Detroit, Seattle-Tacoma, Miami, Minneapolis, Denver, Tampa, Sacramento, Austin, and Cleveland—will be hosting screenings of the film. We've got 20 pairs of tickets in each city set aside for A.V. Club readers; to claim yours, go to the Broad Green Pictures website and enter your ZIP code to find the screening closest to you, or just scroll down the list and pick the one in your city. From there, just click "get passes," fill out the form, and viola—you're in. Tickets are first come, first served, obviously.
And if you're in Chicago, The A.V. Club's Alex McCown will be introducing the AMC River North screening on Monday, June 21. We'll see you there, Refn-heads—at the very least, this is going to be a trip.